Travel

Relax on a beach, go shopping, dine outside, and more.
North of Boston is full of lively cities and towns with an "abundance of riches" when it comes to summer fun, said Nancy Gardella, executive director of the North of Boston Convention & Visitors Bureau.
50 things to do this summer across Massachusetts

"We have these wonderful anchor communities — Salem, Gloucester, Newburyport," Gardella said. "And in between those are 31 other small cities and towns that are just as special, just as distinctive."
No car? No problem, she said.
"The commuter rail goes to Salem, goes to Gloucester, goes to Rockport, and comes to Haverhill and Newburyport," she said. "So you don't even have to be in a car."
Ahead, check out 10 things to do north of Boston this summer.
Plan a scenic picnic in Marblehead
Marblehead is a coastal community known for its quaint streets and fishing port, as well as Old Town, a colonial neighborhood full of about 200 colorful 17th- and 18th-century homes.
"Marblehead is one of those unsung heroes of the North Shore," Gardella said.
Gardella recommends exploring the historic town and enjoying its architecture before packing a picnic lunch from Shubie's marketplace and bringing it to the 1742 Fort Sewall, formerly an armed fort and now a beautiful park with excellent views of Marblehead Harbor.
"It's very historic and amazingly picturesque," Gardella said.
Experience the No. 1 cultural and historical tour in America in Salem
Salem, the historic, seaside city that's become synonymous with Halloween, typically welcomes more than half a million visitors during its month-long Haunted Happenings every October. However, Salem offers activities all year long.
The History & Hauntings of Salem Guided Walking Tour, recently named the No. 1 cultural and historical tour in America by Tripadvisor users, takes place daily.
"What we love about this tour is that it's a little bit of everything of Salem's history and the Salem experience," Beth Crowley, owner and guide, told Boston.com. "A lot of tours will focus on just the witch trials or just ghost stories. We combine so our travelers will learn about our maritime history. They'll also do a deep dive into the Salem witch trials of 1692. We'll also expose them to three centuries of beautiful architecture as well. And, of course, we throw in the spooky ghost stories."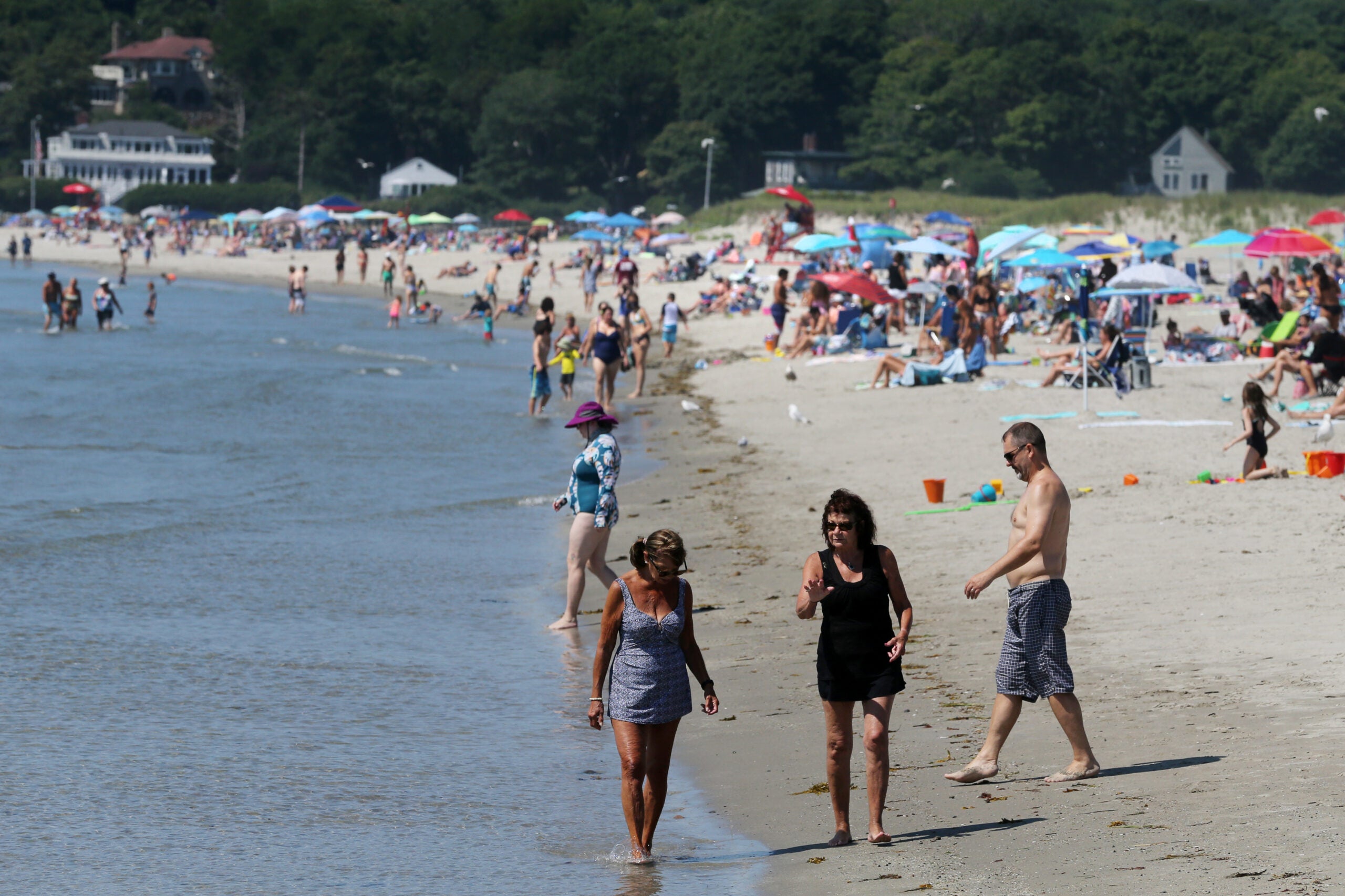 Experience a whale watch, beach in Gloucester
It's Gloucester's 400th anniversary and what better way to celebrate than with a whale watch, Gardella said.
Gloucester offers several different whale watch experiences.
"You can't underestimate the majesty of seeing whales up close," she said. "In our waters now through October you'll probably see three or four species."
Maritime Gloucester, an aquarium and maritime science education center, is also worth a stop, Gardella said, and she advised checking out the live tank there.
Or spend the day on Good Harbor Beach in Gloucester, recently named among the 10 best beaches in the Northeast by USA Today readers. The beach offers "picturesque views of the iconic Thacher Island Twin Lights and small islands off the shore that you can walk to at low tide," wrote USA Today.
Gloucester was recently named among the 15 best small towns and cities in America by CNN.
Listen to live music on a farm, an estate in Amesbury, Beverly, Ipswich
Live music abounds north of Boston, said Gardella.
"I love that there are so many communities where you can go listen to live music and very inexpensively," she said.
Head to Amesbury's Cider Hill Farm every Saturday and Sunday through September for free live music near the outdoor hard cider bar, Gardella said. While in Amesbury, do yourself a favor and explore the many excellent restaurants and shops, she said.
The Trustees of Reservations offers many concerts at its properties across the state, including Long Hill in Beverly and Castle Hill on the Crane Estate in Ipswich. Long Hill hosts live music on Fridays throughout the summer on the croquet lawn behind the main house. Light snacks are available and Notch Brewing serves beer. Castle Hill hosts live concerts on Thursdays throughout the summer.
"Let's face it, you are at the Castle Hill Estate looking out at the ocean," said Gardella. "That view, I would put that up against any location in the world."
Toast your friends at Tree House Brewing Company in Tewksbury
Boston.com readers recently named Tree House Brewing Company the best brewery in Massachusetts and now there's a location in Tewksbury.
The Charlton-based brewing company purchased the Tewksbury Country Club last year and opened a beer hall, pizza counter, retail store, and golf course there this summer. The company, founded in 2011, is regularly ranked among the top breweries in the state and known for its lines of faithful fans.
"The beer brewed at Tree House is a pure expression of the individuals who design and brew the beer, like a brush stroke or singing voice, so by nature it's nearly impossible to replicate," CEO Nate Lanier wrote in an email to Boston.com.
If you love thrifting and all things vintage, head to Georgetown, Gardella said, where you can hit four "fun and funky" shops in one small area.
Peace Love Thrift is a locally-sourced thrift shop that gives back a portion of proceeds to the community. Vintage Vault offers "an eclectic mix" of fashion, art, and other fun finds and has an active Facebook page highlighting new arrivals and outfit ideas for, say, the Kentucky Derby or the Roaring Twenties Lawn Party at the Crane Estate in Ipswich.
At Bent Emporium, shoppers can find vintage clothing, collectibles, mid-century decor, art, and more. And over at the Scala Center, which offers three levels of shopping and services, you'll find Bohemian Boutique, which specializes in vintage fashions, costumes, accessories and antique jewelry.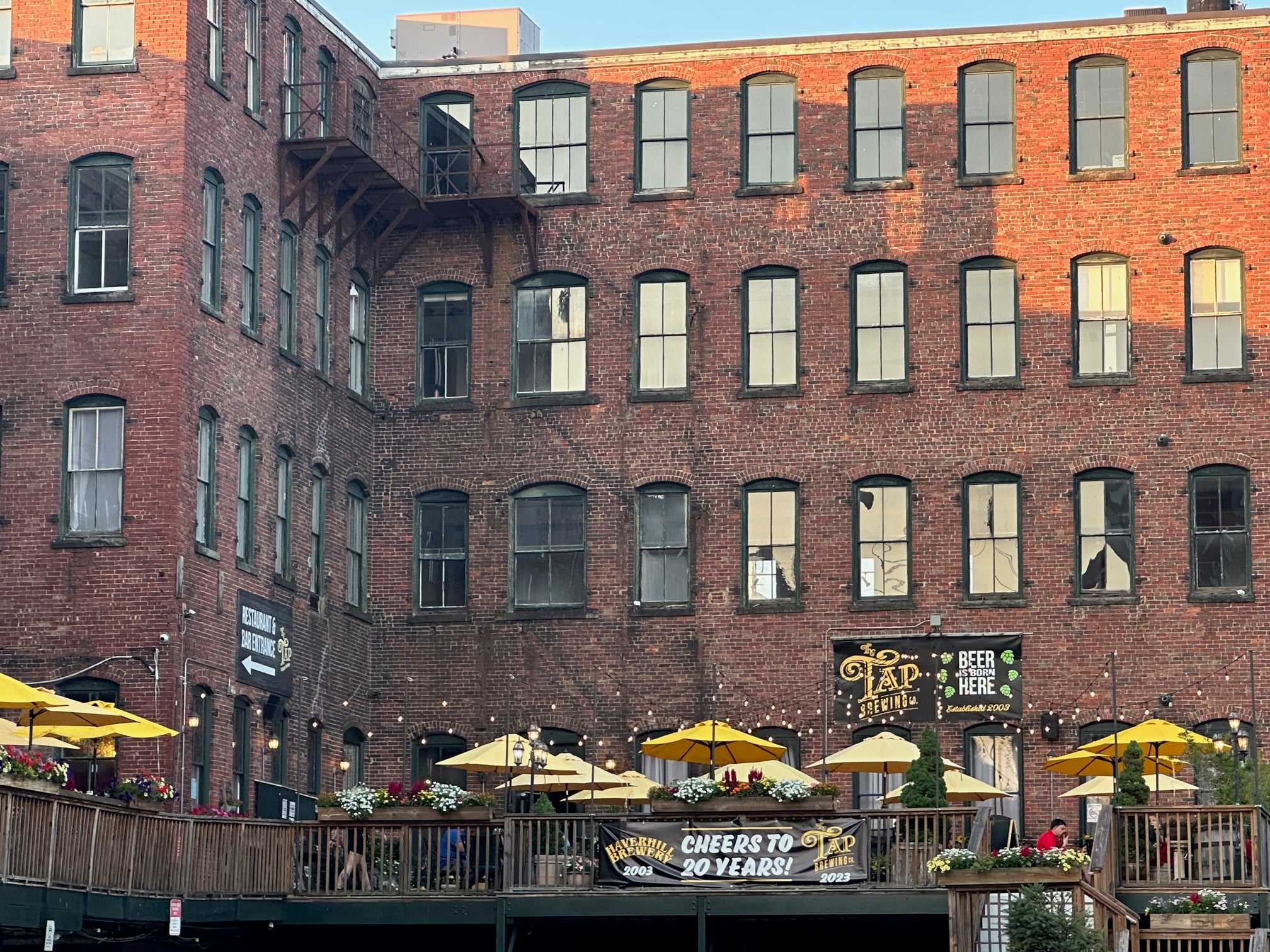 Dine outside overlooking the river in downtown Haverhill
Historic downtown Haverhill's industrial buildings along Washington Street are full of restaurants, many of which have outside decks overlooking the Merrimack River.
"The food scene in Haverhill is fantastic," Gardella said.
Visitors can dine on the decorated decks of The Hidden Pig, an American-style gastro pub known for its burgers and liberal use of bacon that was featured on Phantom Gourmet; The Tap Brewing Company, celebrating its 20th year, Hans Garden, serving authentic Chinese food, and Stacks, which has 24 craft beers and ciders on tap and serves up craft sandwiches and boozy over-the-top milkshakes topped with full-size desserts.
"There's a very authentic hyperlocal food and sipping scene," said Gardella about communities north of Boston.
Check out architecture in Ipswich
When in Ipswich, start your day at Sandpiper Bakery, Gardella said, a female-owned bakery in Ipswich that supports local farmers.
"I'm not a breakfast person but I had a scone and I almost swooned," she said.
Then head to the High Street Historic District, Gardella advised, "a must-see in the area."
The district has more First Period homes built between 1625 and 1725 than in any community across America, according to historicipswich.net.
Ride a historic carousel in Salisbury
Salisbury, a small coastal beach town north of Boston on the New Hampshire border, unveiled a new carousel this summer.
The 1909 ride is located inside a new octagonal pavilion on Broadway and features hand-carved wooden animals such as horses, giraffes, and camels.
"It's such a special thing for Salisbury," Gardella said. "I think Salisbury is one of the most underappreciated beaches in Massachusetts."
The family-friendly Beach Center offers food, arcades, live music, shops, organized activities for kids, outdoor movies, fireworks on Saturdays, and more. Guests can also stroll a 625-foot-long oceanside wooden boardwalk.
Check out 5 things to do when visiting Salisbury.
Drive the Essex Coastal Scenic Byway
For this one, you do need a car, Gardella said. Those who love gorgeous drives shouldn't miss the Essex Coastal Scenic Byway, she said.
The 90-mile roadway connecting 14 coastal communities from Lynn to Salisbury was named one of the best places in America to view fall foliage by Fodor's Travel. But it's worth traveling any time of year, Gardella said.
"You could spend days exploring all of the tiny little towns along the Coastal Scenic Byway," Gardella said.
Need weekend plans?
The best things to do around the city, delivered to your inbox.