Politics

In visits on back-to-back days, the two will test their appeal among workers in a key swing state.
President Biden on Tuesday will arrive in Detroit and become the first president to walk a picket line when he joins members of the United Auto Workers in protesting their contract with the biggest car manufacturers in the country.
The following day, former president Donald Trump will arrive in the next county over, trying to tap into the same angst among industrial workers.
The visits come as the two leaders test their appeal among the working class in a key swing state. They set up what will be a driving force in the 2024 presidential campaign, while also highlighting the starkly different records that Biden and Trump carry into a contest likely to feature both men.
Biden comes at the invitation of union leaders. Trump came despite their warnings to keep his distance. Biden has touted a record as a "pro union" president while at times struggling to maintain the support of rank-and-file members. Trump calls himself "pro worker" while at times clashing with union leadership and implementing policies as president that worked against their interests. And while Biden is joining a picket line of union members, Trump's remarks will be given at a non-union shop.
"There's a huge political drama unfolding with this UAW strike, which has been perfectly timed as we're about to head into a presidential election year," said Douglas Brinkley, a presidential historian. "The whole battle of 2024 is going to be in states like Michigan, Ohio, Wisconsin. These are strike zones."
With both men well ahead of the competition in their respective primaries, the prospect of a Biden-Trump rematch has reignited a long-running battle to position themselves as allies of working-class Americans. Both have made it a core part of their political identities for years, and they put it at the forefront of their competing pitches in 2020, when Trump was the incumbent and Biden the challenger.
There are significant risks for Biden if the autoworker strike is not resolved relatively soon, or if it ends up causing additional economic turbulence. But as a president who has proclaimed himself a working-class warrior – and whose political career has been defined by supporting labor unions – Biden may have had little choice.
"It puts Biden as president out of a negotiation role and smack into the UAW camp. Most other presidents in his position would probably have had the secretary of labor be the picket walker, to send a broad message about the administration view," Brinkley said. "But Biden is painted in a corner once he is in total sync with the UAW. Biden will suddenly own the strike of three auto companies."
Although other presidents have supported labor unions, Brinkley and other historians could not recall any president having walked a picket line, and White House officials said Biden, to the best of their knowledge, would be the first.
Franklin D. Roosevelt sent his labor secretary, Frances Perkins, to work with strikers. Teddy Roosevelt in 1902 made history by calling union and business leaders to the White House in an attempt to arbitrate a deal to end a strike called by coal miners.
"This was the first time to use the White House in this way," said Doris Kearns Goodwin, a presidential historian who has written numerous biographies, including on Roosevelt. "It was a huge, precedent-setting meeting. Many people thought, 'Don't get involved in this. If it fails, the failure would be on you.'"
The initial meeting ended without resolution, but after a transcript became public – and public sympathy siding with union members – the owners agreed to a commission that helped end the strike.
White House officials on Monday did not specify what would occur during Biden's visit, including whether he planned to address the crowd, hoist a sign or meet with auto company representatives.
"The optics around a president of the United States joining the strike line is quite intense. Because it's uncharted territory we don't know how it will play out on the national political stage," Brinkley said. "If we see a settlement in a month, Biden will seem the winner. They got a pay raise and he didn't flip-flop. If it drags on and it meets with a government shutdown or economic downturn, the symbol of Biden holding the sign may be useful for Trump – that we have a socialist in the White House and he doesn't know what he's doing."
Biden narrowly won Michigan in 2020, defeating Trump by about three percentage points in a state Trump had carried in 2016, and exit polls showed him winning with about two-thirds of those from union households in the state.
But Trump has long tried to drive a wedge between union members and their leaders. Trump won more union households in 2016 than any Republican since Ronald Reagan, according to exit polls by Edison Media Research. In 2020, Biden carried union members by 56 percent to Trump's 42 percent, according to AP VoteCast.
The UAW endorsed Biden in 2020 but has refrained from joining other major labor groups in immediately backing his reelection. In a letter first reported by the Detroit News, UAW President Shawn Fain said another Trump term "would be a disaster" but that the union wanted a president who would "have our back" on protecting worker pay, job security and organizing rights in the transition to electric vehicles.
This week, the UAW will be participating in Biden's visit but not Trump's.
"Every fiber of our union is being poured into fighting the billionaire class and an economy that enriches people like Donald Trump at the expense of workers," Fain said in a statement. "We can't keep electing billionaires and millionaires that don't have any understanding what it is like to live paycheck to paycheck and struggle to get by and expecting them to solve the problems of the working class."
Trump's campaign promises have emphasized protectionist trade policies and encouraged domestic manufacturing. Many of his promises to save jobs did not materialize, playing out in actions such as the closure of a massive General Motors plant in Lordstown, Ohio, in 2018.
When Trump was president, his appointees at the National Labor Relations Board empowered employers over unions by making it easier to categorize workers as independent contractors and to suspend negotiations or withdraw recognition. Trump also supported legislation limiting unions' ability to collect dues.
Biden has made an effort to demonstrate his ties to organized labor. After announcing his reelection bid, Biden's only campaign rally was held in June at an event in Philadelphia with the AFL-CIO, the nation's largest federation of unions.
"You know, there are a lot of politicians in this country who can't say the word 'union,'" he said then. "But you know I'm not one of them. I'm proud to say the word. I'm proud to be the most pro-union president in American history. I promised you I would be."
Early in his presidency, in February 2021, he recorded a video in support of Amazon workers trying to unionize in Alabama. Last year, some union members were unhappy when he pushed for Congress to intervene and force labor unions to accept a deal and avert a national rail strike, which Biden said would have been devastating.
Hours after signing the legislation, Biden stopped by a union hall in Boston to smooth things over and remind people of his strong union ties.
Biden's trip to Michigan is further complicated because his climate policy is in part dependent on auto manufacturers building more electric vehicles – a bigger challenge if workers are striking. Automakers have also said that a big increase in labor costs could make it more difficult to scale up EV production.
The UAW has said it supports EVs but wants to make sure companies accepting federal money maintain the same level of labor standards in those plants. The union has criticized the Biden administration for giving federal funds to automakers who are shifting jobs to Southern states where unions are weaker, and for paying workers in battery plants less than their combustion-engine counterparts.
Trump's campaign has been trying to pin the autoworker strike on Biden, blaming the administration's EV incentives. Trump has, without evidence, accused Biden of taking bribes from China and seeking to move manufacturing jobs there.
"Crooked Joe sold them down the river with his ridiculous all Electric Car Hoax," Trump said Saturday in a social media post. He added Monday: "I WILL KEEP YOUR JOBS AND MAKE YOU RICH!!!"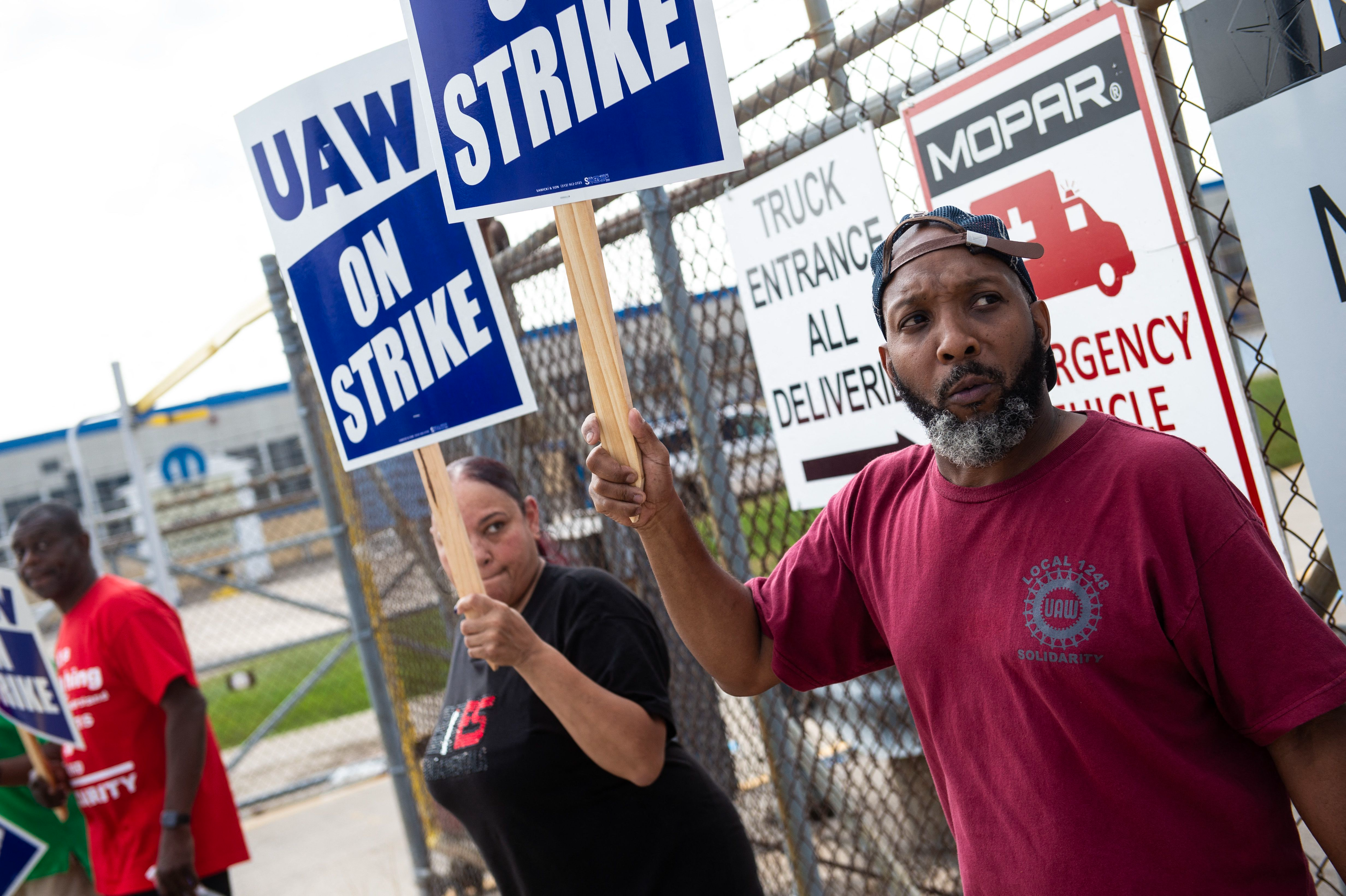 White House officials say Biden had been considering joining the picket line since the strike began two weeks ago.
"This is a president that's made very, very clear that he believes that corporate profits should lead to a record UAW contract," White House press secretary Karine Jean-Pierre said Monday amid many questions about Biden's decision.
"This is going to be a historic visit," she said. "And the president is going to continue to show his support, not just from the last couple of years, but as he has been in the public eye, as a senator, as a vice president, his support for unions."
Still, she declined to specify whether Biden was aligned with the UAW on some of its calls for additional pay and time off as part of the contract dispute.
"That is something for them to discuss. . . . We're not going to litigate the specifics of the negotiations," she said. "He is standing with the workers. We are not involved in negotiations. That is something for them to decide what is going to work for the parties that are involved. But he is standing with the autoworkers."
Trump on Wednesday will speak at a Detroit-area engine parts supplier that is non-unionized. When contacted for comment, the company's president asked for questions by email and then did not respond. Aides said the speech will include new policy proposals and promote Trump's economic record. The campaign also placed radio ads in the region touting Trump's tax cuts and attacking Biden's support for EVs.
Though the Trump campaign initially booked Wednesday's prime-time appearance in Michigan to counterprogram the second Republican primary debate, the former president's aides were equally enthusiastic to see the speech shaping up to be an opening salvo in the general election rematch with Biden.
The campaign is hoping the Michigan trip will mirror the success of Trump's February visit to the site of a train derailment in East Palestine, Ohio. Advisers view that trip as a turning point in the primary that found Trump dominating press coverage, appearing presidential and reminding Republican voters of his appeal to many blue-collar Americans.
"If President Trump had not announced that he was going to Michigan in the middle of the UAW strike, then Joe Biden would be giving UAW workers the East Palestine treatment," Trump senior adviser Jason Miller said. "President Trump has shown that he cares about people, he cares about working, middle-class voters in the United States. He cares about communities or industries that many feel have been left behind or ignored by the Beltway elites."
Jean-Pierre said Trump's visit did not play a role in the administration's decision to schedule one for Biden the day before.
"Absolutely not," she said. "The decision to visit the picket line was based off his own desire. This is what the president wanted – to stand with autoworkers."