Restaurants

Chef Douglass Williams said the new restaurant will serve up brasserie staples and high energy in the Fenway.
Coming off the heels of opening Mida's East Boston location, Boston's award-winning chef Douglass Williams this time is transporting guests to the City of Lights with his newest restaurant.
DW French, a French brasserie that brings Williams's training and experiences in France to the plate, opens for dinner service Oct. 19 in the Fenway.
Paying homage to the French brasserie is something of a full-circle moment for the chef. DW French may seem like a departure for Williams — his other four restaurants, all Italian eateries, focus on pasta and pizza — but Williams was trained in modern French cooking techniques.
Williams first moved to Boston when he was offered a job in the kitchen of French-inspired Radius, which closed in 2013. The chef also spent time cooking in Paris at Akrame, a two-star Michelin restaurant and an experience called a "pilgrimage."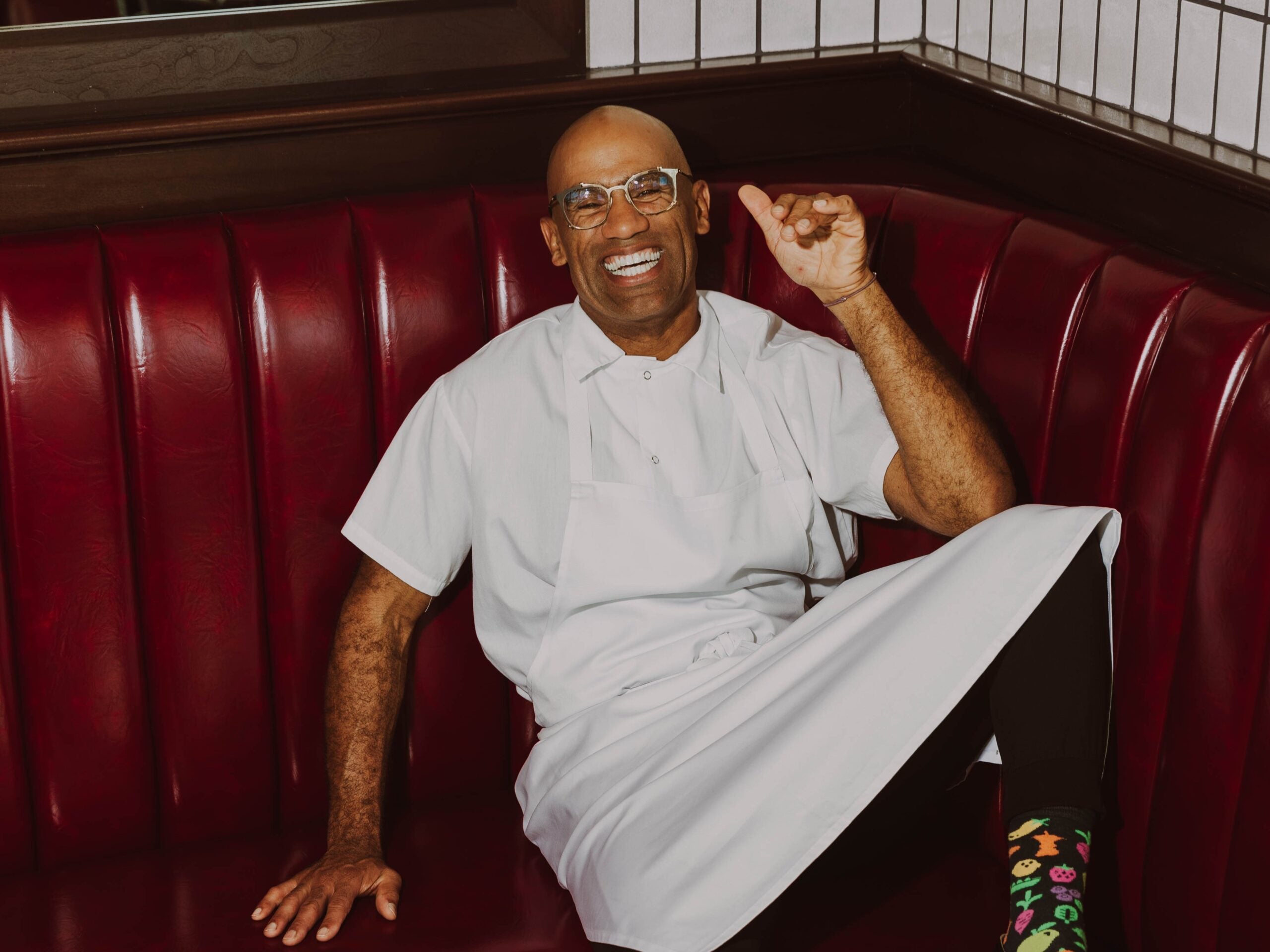 It was that experience in Paris — not just learning to cook the food, but taking in the high energy and hospitality that comes with being in a French restaurant — that made him want to open up his first restaurant Mida in the South End.
"You expect the energy to be high, having that sort of rush and the bustling," Williams said. "It's exciting. It's part of the menu."
Williams wants DW French to replicate the bustle, with waiters moving quickly behind guests, and smells from dishes wafting in the air. 
Also when you think of what might be on the menu at that energetic brasserie, a few staples come to mind: French onion soup, steak frites, crème brûlée, to name just a few. No need for dramatic interpretation, either.
"That's what's so interesting about brasserie cuisine — it's a love affair for repetition without it feeling boring," Williams said.
So in order to pay his contribution to a fare that has existed for decades, even centuries — and for good reason, expect French onion soup — steak frites, crème brûlée, and more on the menu.
Williams said his personal favorites are the French onion soup with broiled Gruyère cheese — the restaurant was based off of this single dish, Williams said — and the Hake En Papillote, fish and vegetables wrapped in parchment paper then steamed. In theatrical fashion, the dish is brought to the table still wrapped, then cut, showing off a bubbling hot, aromatic dish.
Then there's the beverage program, which includes a wine list of small-production French wines, both inventive and classic cocktails, and mocktails. DW French will also soon have a Saturday and Sunday brunch menu, but for now, it's just dinner service, according to a press release.
Just as he and his team did with opening Mida in East Boston, Williams saw this Fenway location — inside the Pierce building on Boylston Street — as an opportunity to impact a neighborhood that's changed so much in the last decade. 
"The city is, in my opinion, gently growing," Williams said. "I just thought it was a huge opportunity to not just grow the brand and our reach in the city, but for the first time capture that tourism piece."
It could be seen as a tall order to attract Fenway's many visitors — likely donning baseball merch — for French fare before or after a ballgame. But with DW French, Williams sets out to bring French culture and cuisine to diners in an inviting way. He calls it "French for all."
And the neighborhood, of course, isn't just made up of tourists. Williams said DW French will be for the business people in suits, the health care employees, the university community, and yes, the tourists wearing baseball hats, coming in and enjoying the cuisine as they are.
"The world walks by Fenway," Williams said. "It's a beehive of energy."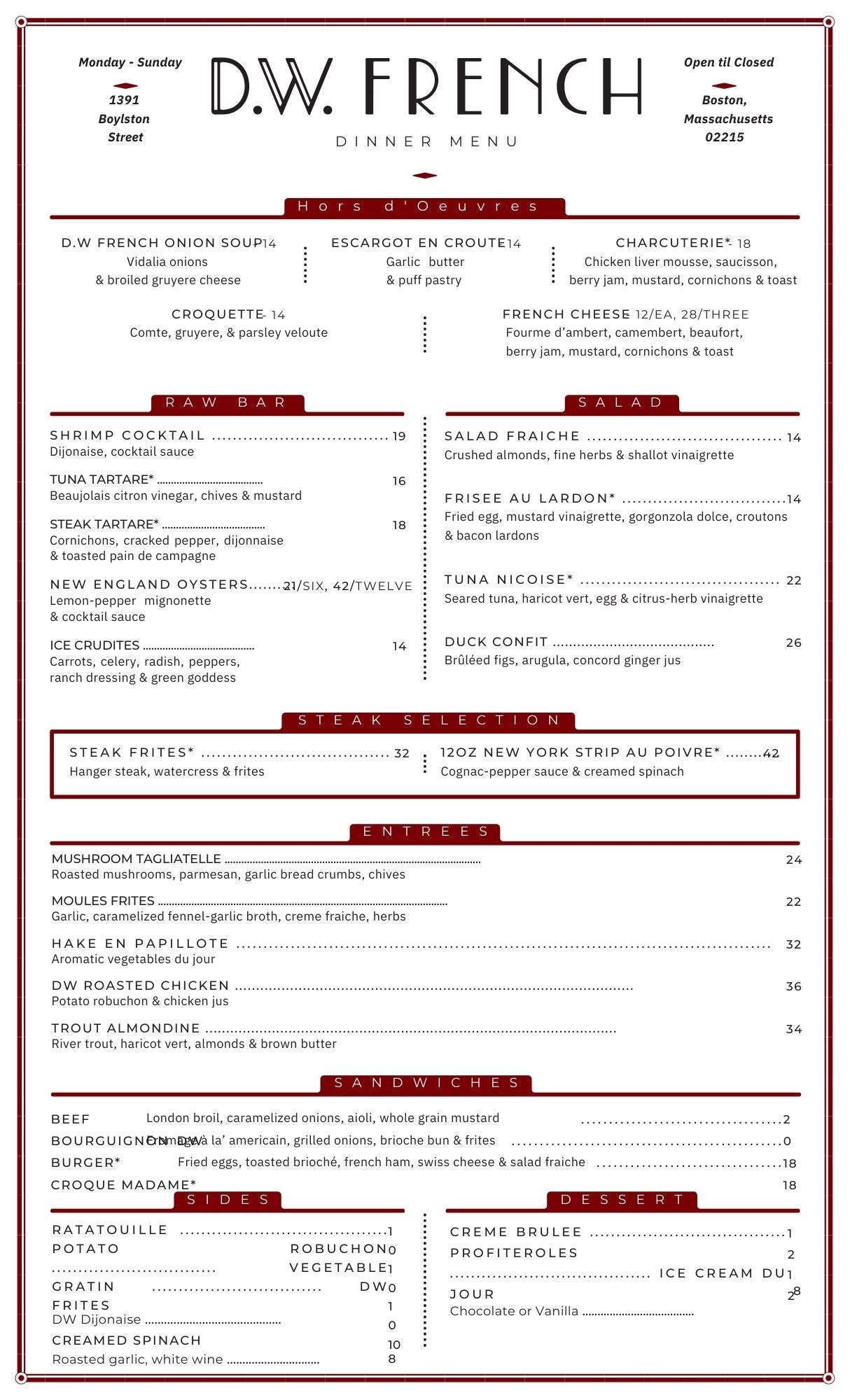 DW French is located at 1391 Boylston St. Hours are 4-10 p.m. Monday through Thursday, 4-11 p.m. Friday, 10:30 a.m.-11 p.m. Saturday, and 10:30 a.m.-10 p.m. Sunday.
Sign up for The Dish
Stay up to date on the latest food news from Boston.com.