Crime

In a livestream Wednesday, Kearney said the conditions of his release leave some aspects of his blogging about the Karen Read case up in the air.
"Turtleboy" blogger Aidan Kearney proclaimed his innocence in a Facebook livestream Wednesday night, hours after he was arrested and charged with several counts of witness intimidation tied to his provocative coverage of the murder case against Karen Read.
Addressing his followers, he asserted that authorities pursued the charges to discourage his reporting and as a pretense to search through his sources.
"I'm not guilty of any of these crimes. I'm not even close to being guilty of any of these crimes, and they know that," Kearney said. "They just used this as a premise to get my phone, because they want to see who I'm talking to." 
Prosecutors allege that he targeted and harassed several witnesses in Read's case, even showing up at their children's sporting events, visiting their homes, and publicizing some of their addresses and phone numbers. 
Kearney pleaded not guilty to multiple counts of witness intimidation and picketing witnesses, as well as one conspiracy charge. He was released on personal recognizance and ordered to stay away from the named individuals. 
But in some of his first public comments since his arrest, Kearney warned that he is just getting started.
"I will never, ever be silenced," he wrote on the social media platform X. "They thought they could break me, but I'm only more resolute and stronger."
Kearney: 'Today was an act of desperation'
Since April, Kearney has made Read's case his cause célèbre. 
The Mansfield woman is accused of hitting her boyfriend, Boston police officer John O'Keefe, with her SUV and leaving him to die outside a fellow Boston officer's home in Canton last year. Her lawyers argue that she's being framed and that other guests at the home are really to blame — a theory that prosecutors have repeatedly discredited. 
The case is set to go to trial in March.
Kearney has promoted the defense team's alternate theory to his thousands of followers, publishing 179 installments in his "Canton Coverup" series on TB Daily News. He's attended pretrial hearings, sold Karen Read-themed merchandise on his website, and vlogged his tense confrontations with witnesses in the case. 
In his livestream Wednesday, Kearney claimed that his arrest and charges were meant to "send a message" and discourage him from exposing alleged corruption in the Read investigation. He said several police officers approached him as he sent his children off on the school bus that morning, also seizing his electronic devices. 
"It was supposed to be the day that broke me, but it only made me stronger," he said. "I didn't think they had the balls to do it. I know they wanted to; I didn't think they had the balls to. But they went for it, so now we dance."
Kearney also addressed one of the more notable allegations leveled against him in court: That he conspired with a local police dispatcher to check the registered owners of vehicles parked outside the home of the lead investigator in Read's case. 
Special prosecutor Ken Mello said during Kearney's arraignment that the dispatcher "unlawfully and illegally accessed the Registry of Motor Vehicles database to provide [Kearney] with information he was not entitled to."
During the livestream, Kearney said the dispatcher is "one of dozens of people, probably, who have sent me confidential information over the years." 
Again and again, he reiterated that the charges have only strengthened his resolve to uncover alleged corruption in Read's case. 
"I'm not the least bit deterred," Kearney said. "I'm not scared of you punks; you're scared of me. Today was an act of desperation … You're scared. I'm not going to hurt you — I never said I was going to hurt you. But I am going to expose you. And I'm not going to stop."
What do the charges mean for Turtleboy?
Due back in court on Dec. 5, Kearney said he's searching for private counsel to represent him moving forward. Prominent Boston criminal defense attorney Rosemary Scapicchio is his first choice, he said. 
"I need, for this case, the best of the best," he said. "I need people who are skilled, talented, and experienced in this and especially like to go after corrupt cops."
Kearney said he's going to set up a fundraiser for his legal expenses.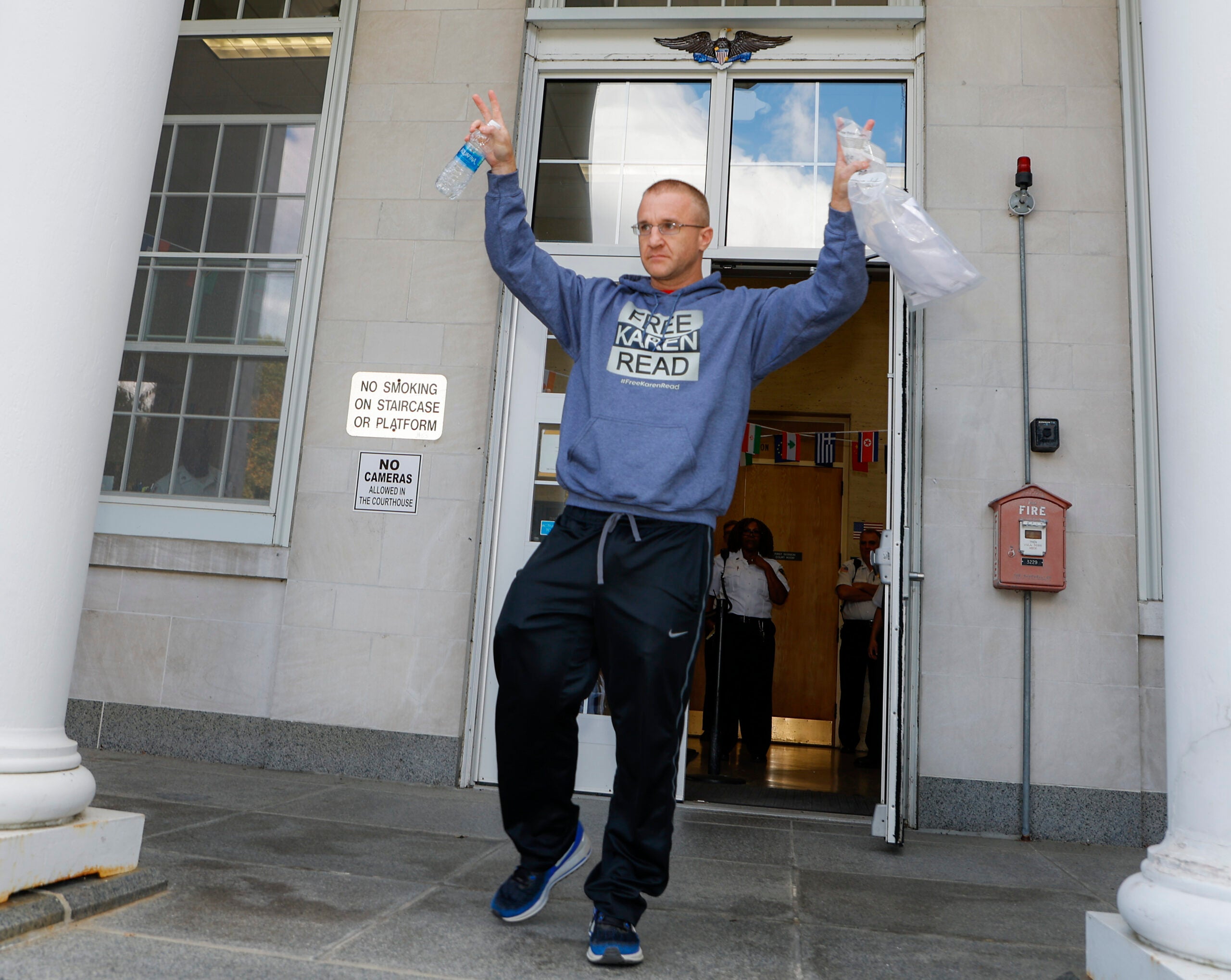 He also indicated that he's still determining what his release conditions mean for future appearances at Read's court hearings, as Judge Daniel O'Malley ordered Kearney to have no contact with the individuals he's accused of targeting. 
"I'm going to deal with this with an attorney, because I need to be able to go to court dates," he said. 
Answering a viewer question about whether he can still blog about the named witnesses, he said: "I mean, I don't see why not, but I'm going to have to walk a fine line while this stupid order is in place, because you know they're just itching to lock me up, man."
Kearney also said he expects more charges will follow, "And that's fine, because I love it. I love it. I love it. You don't scare me; you'll never scare me."
Appealing to viewers, he added: "Even if you don't like me, even if you don't like my politics, whatever, that's fine. But this is bigger than all of us, man. This is bigger than all of us."
Newsletter Signup
Stay up to date on all the latest news from Boston.com