Restaurants

Chef Sarah Wade is opening her second restaurant next week.
A renowned chef who achieved television fame several years ago is debuting a new eatery in Allston, serving up comfort food with an original twist.
Sloane's, chef Sarah Wade's second restaurant, is opening on Aug. 7 in the North Harvard Street space that formerly belonged to Our Fathers, a Jewish deli and bistro. Wade named the spot after her first daughter and will bring customers hearty fare. In the tradition of her first restaurant, Stillwater, which she opened in 2019 after winning Food Network's Chopped Gold Medal Games competition, she will deliver on comfort food with flair.
"Comfort food is my thing, so I felt we wouldn't veer too far out of that little realm," Wade said in a recent interview. "We went [for] American comfort food, recognizable dishes. Larger portions, knowing that the neighborhood loves to go out to eat, find some value in what they're eating, and then take a little bit home."
Fields West, a laid-back restaurant and bar, opens in Allston


'This time, I'm doing something small': A 15-seat Stella opens in Newton

For dinner, customers can enjoy digging into the pretzel crusted chicken, a dry brined chicken breast served with honey mustard butter, creamy whipped potatoes, and braised red cabbage. Another unique dish at Sloane's is the lamb meatloaf, which comes with za'atar ketchup, dill yogurt crushed potatoes, and tomato feta salad. Finally, the hand rolled cauliflower gnocchi is a standout, coming with vine ripe tomato pesto and shaved parmesan cheese.
The cocktail program will offer drinks like the Cool as a Cucumber, featuring Velo Vodka, cucumber water, yuzu liqueur, and pink peppercorn, and the Oklahoma Smoke Show, showcasing oak smoked WhistlePig 6 Year Piggyback Bourbon Whiskey, Bully Boy Amaro, and bitters.
Brunch is Wade's specialty, and Sloane's will be serving it until 3 p.m. Guests can enjoy a bacon mushroom omelet, made with butter onions and Taleggio cheese. They can also feast on classics, like blueberry pancakes, which Wade said are "as big as your face." The chicken and mashers, which come with hot bourbon maple syrup, grace the menu, as does a pot roast mac and cheese.
"[Food Network] called me the 'brunch maven,' and I'll hold on to that one. I'll take that trophy," Wade said. "I love brunch. When it's done right, it is so, so good. I love doing crazy, interesting brunch dishes that bring people out, and they kind of go, 'OK!'"
The desserts served at Sloane's can best be described as nostalgic. The restaurant will be offering Funfetti layer cake, a yellow cake layered with Tahitian vanilla buttercream. It'll also bring guests oatmeal cookie profiteroles and a homemade Snickers, made with a brownie base. Finally, homemade ice cream in flavors like watermelon lime and chocolate chip cookie can be enjoyed in house or "Hoodsie-style," taken to go in a cup with a lid and spoon.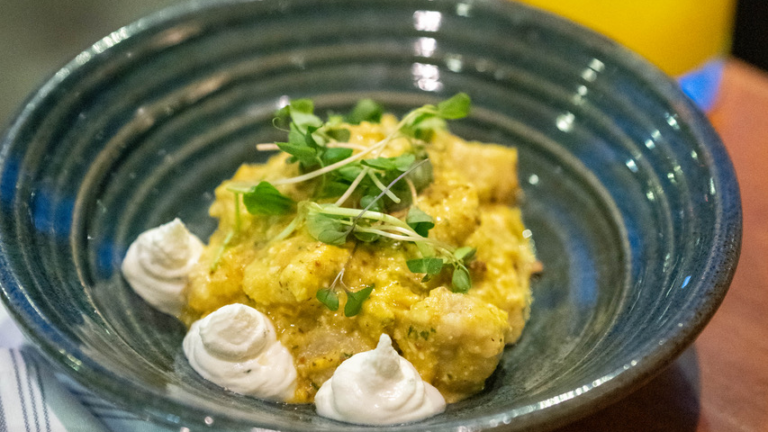 The dining room, which seats 80 people, is decorated in a style that Wade called "dark and warm." Chandeliers with many arms adorn the space, and the walls have been stained "this nice, lovely, rich, dark color." An indoor bar seats 20 people. What used to be Our Fathers' deli has been converted into a private dining room, separated from the main space by sliding barn doors. Outside, guests can enjoy visiting the "swim-up bar," an outdoor bar with 8 stools, where they can order drinks through a window that connects them to the bartender indoors. The idea, Wade said, is for patrons to feel like they're somewhere tropical, enjoying frozen drinks and boozy floats. There is also an outdoor patio for 18 guests.
Prior to opening Stillwater, Wade worked as executive chef at Lulu's Allston for five years, and coming back to the neighborhood feels like a homecoming, she said.
"Allston [had] welcomed me with open arms," she said, adding, "I got to know the neighborhood and customers, and I knew that if [an opportunity] popped up over here, I'd definitely come back. I feel like I'm coming home."
Sloane's, located at 197 North Harvard St., Allston, is open Monday, Tuesday, and Wednesday, from 11 a.m. – 10 p.m.; Thursday, Friday, from 11 a.m. – midnight; Saturday from 10 a.m. – midnight; and Sunday from 10 a.m. – 10 p.m.
Sign up for The Dish
Stay up to date on the latest food news from Boston.com.