Morning Sports Update

"We play for championships," said Cora. "And right now, we're in last place in the American League East."
Alex Cora on his future with the Red Sox: With 16 games remaining in the season, the Red Sox are tied with the Yankees for last place in the American League East at 73-72.
Out of the playoff race, Boston manager Alex Cora is free to contemplate longer-term questions about his future with the team. He was recently asked about it during an interview with baseball reporters Jon Heyman and Joel Sherman on "The Show," a New York Post podcast.
"I love this place, but obviously there's other stuff that comes into play and things [are] more [about] family," Cora said. "I'm 47, I turn 48 next week. I don't see myself like Tito [Francona] and Tony [La Russa] to manage until 70 whatever. I enjoy what I'm doing, but at one point we're going to have to move on to do something else."
Cora, who led the Red Sox to a World Series win in his first season as manager in 2018, said he continues to relish managing in Boston.
"As of now, I enjoy this and it is a challenge," he said.
He was blunt in his assessment of his team's performance in 2023.
Cora said that while he's seen some positives this season — citing some of the younger players breaking in at the Major League level — it's ultimately been a disappointment.
"We play for championships," said Cora. "And right now, we're in last place in the American League East."
Looking to 2024, Cora predicts that turning things around will require changes.
"Hopefully," he explained, "we can improve the roster with some acquisitions and go for it next year."
Trivia: Alex Cora was born in Caguas, Puerto Rico. What two-time Gold Glove-winning shortstop (a current MLB player) was also born there?
(Answer at the bottom).
Hint: He made his MLB debut in 2015 with Cleveland (though he no longer plays there).
Scores and schedule:
On Wednesday, the Sun demolished the Linx 90-60 to win Game 1 of a WNBA playoff series (highlights below). Game 2 is set to get underway at 1 p.m. on Sunday at Mohegan Sun Arena.
Looking ahead, the Red Sox and Yankees will play a second doubleheader of the week on Thursday (1:35 p.m. and 7:15 p.m. first pitch times) after Wednesday's match-up was rained out.
On Saturday, the Revolution will turn their attention back to the field after a tumultuous week away from the pitch, facing the Rapids in Colorado at 9:30 p.m.
Also this weekend, the Patriots will face the Dolphins at home on Sunday Night Football. Kickoff is set for 8:20 p.m.
More from Boston.com:
The Sun destroyed the Linx in Game 1: Connecticut defeated Minnesota 90-60 in Game 1 of the opening round WNBA playoff series on Wednesday.
On this day: In 1997, the Patriots defeated the Jets 27-24 in overtime to win what was dubbed "The Tuna Bowl," given Bill Parcells's involvement. The former Patriots head coach — who left under acrimonious circumstances for New England's AFC East rival in the preceding offseason — almost guided his new team to an early season upset, but Adam Vinatieri's 34-yard field goal handed Pete Carroll the win.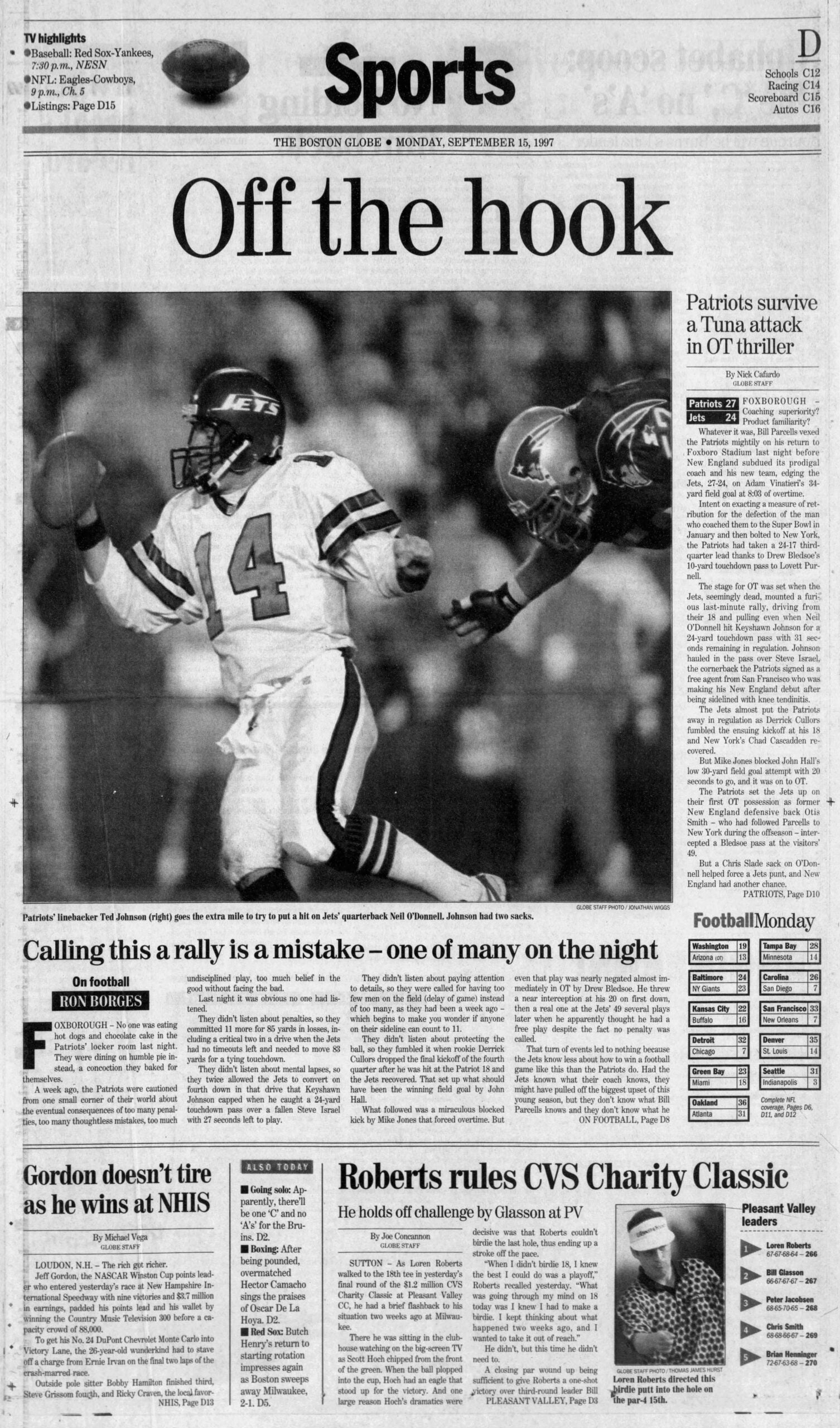 Daily highlight: Phillies second baseman Bryson Stott covered an immense amount of ground before making an impressive sliding catch on Wednesday night.
Trivia answer: Francisco Lindor
Sign up for Red Sox updates⚾
Get breaking news and analysis delivered to your inbox during baseball season.