The Boston Globe

Hospitals are under fire from their own staff for their comments — as well as for their silence.
As doctors with years of medical training, hospital leaders have an especially visceral reaction to the extreme violence unfolding in Israel and Gaza, with many feeling compelled to speak out after witnessing the daily barrage of horrific images.
Now, those hospital executives are facing harsh criticism from within their own medical staff for those public statements, either for not going far enough to condemn the atrocities committed by Hamas militants, or for failing to acknowledge the soaring civilian death toll in Gaza. Much of the criticism has come from workers with family ties to Israel or the Palestinians, who say their institutions failed to properly acknowledge the scale of human suffering or the underlying causes that led to the war.
On Oct. 10, three days after the deadliest assault on Israel in 50 years, Dr. Yoav Golan opened his work email and felt a jolt of anger. Tufts Medical Center, the hospital where he had worked for more than two decades, had issued a statement on the war without mentioning Hamas and the ruthless nature of the militant group's attacks on Israelis. "There are some actions that are so evil that you have to say that, as humans, we are not going to accept this," he said. "They failed to do that."
Meanwhile, a doctor of Palestinian origin who works at Boston Children's Hospital said her "heart sank" at reading an Oct. 9 message from her employer, in which Palestinians and the retaliatory attacks on Gaza were not mentioned. "I feel like I have no voice and no space to mourn, because at this point I'm invisible," she said, asking that she not be identified by name out of fear of retribution. "My humanity is not recognized."
And on Wednesday evening, frustrations boiled over at a pro-Palestinian demonstration in front of Harvard Medical School. Wearing white coats and chanting "Free Palestine," nearly 200 local health care workers and medical students demanded that area executives be more balanced in their condemnations of violence and specifically denounce the explosion at the hospital in Gaza City. Much about the incident, which Gaza officials said killed and injured hundreds of civilians, remained unclear on Thursday, with Palestinian and Israeli leaders blaming each other for the attack.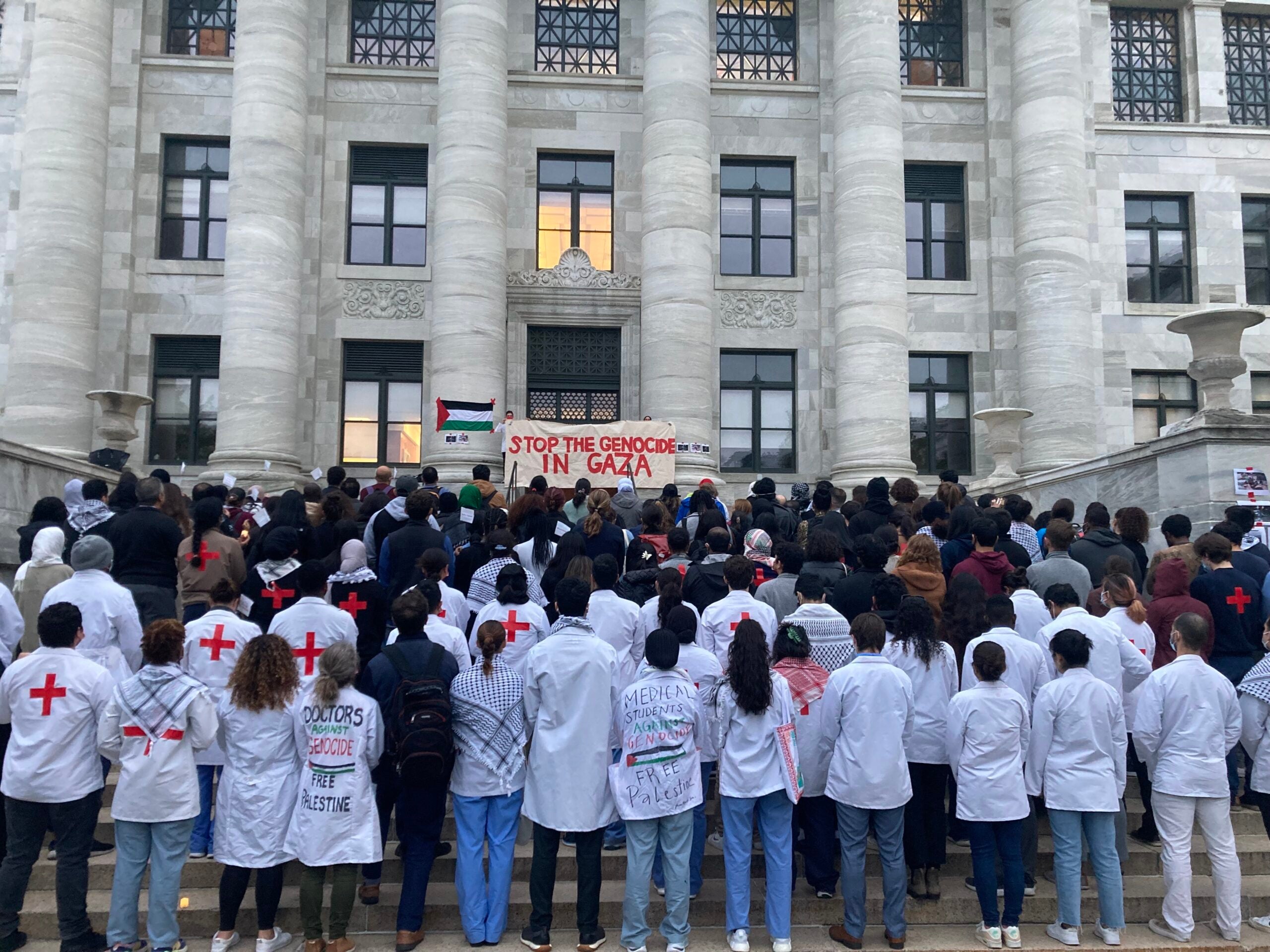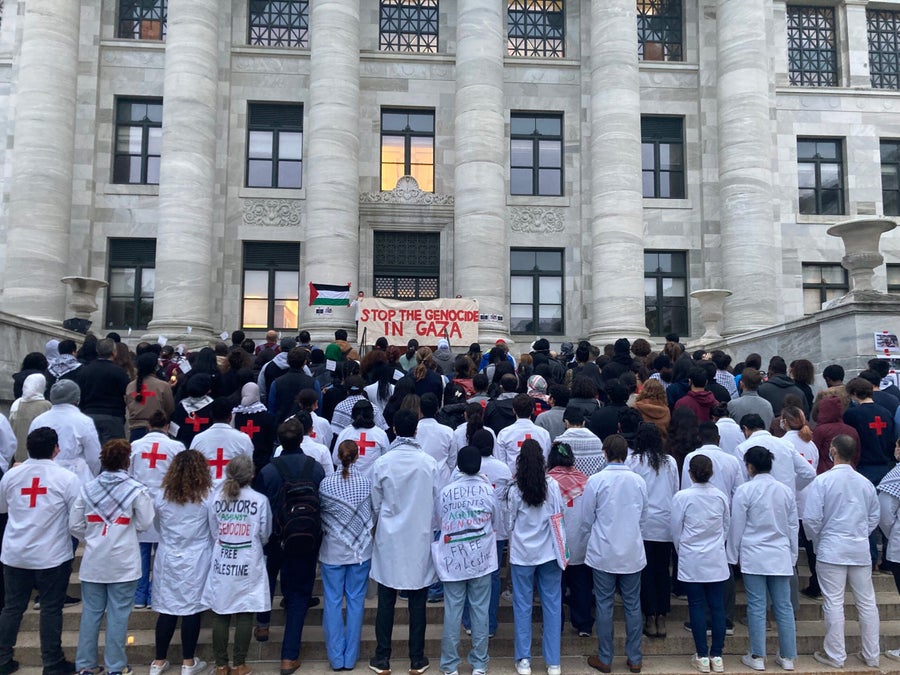 "This one-sidedness is killing us," said a second doctor at Boston Children's, whose parents are Palestinian, and also asked to remain anonymous for fear of retaliation. "As a doctor, I feel every child and every human deserves safety, and I don't understand why the suffering of my people doesn't appear to matter."
In some cases, local medical institutions altered or deleted statements in response to criticism and the changing dynamics of the war.
On Oct. 9, two days after the Hamas surprise attack, Boston Children's chief executive Kevin Churchwell issued an email to employees that denounced the violence and referred to "our Jewish colleagues and friends," while omitting any mention of Palestinians. Hours later, the hospital sent out a slightly different message with the words, "to our Jewish and Palestinian" colleagues and friends.
And at Tufts Medical Center, two Jewish doctors on a humanitarian mission to Israel said they were outraged by a brief email early last week from CEO Michael Dandorph. In the message, Dandorph described the violence and loss of life as "horrific and deeply unsettling," and said "our thoughts are with those affected."
"We understand that many of you have family and loved ones in the region, and for many of you the news and images can be distressing," Dandorph wrote.
The doctors said Dandorph's language didn't reflect the barbaric nature of the assault on Israel, and appeared to equate the actions of Israel with Hamas.
Dr. Rona Spector, a thoracic surgeon at Tufts Medical Center who grew up and attended medical school in Israel, said she felt "very, very alone" after reading the Tufts statement. To her, the message appeared rushed and failed to acknowledge the horrific nature of the assault by Hamas, in which Israelis were reportedly tortured, raped, and burned alive.
"There is a sense of existential crisis here, that we either have to fight for our lives or we will cease to exist," Spector said. "It's the first time since the Yom Kippur War [in 1973] that we have that feeling. And it's heartbreaking that others don't recognize it."
Golan, an infectious disease surgeon at Tufts, called the statement "absolutely appalling," and said it left him debating whether to stay at the hospital where he has worked for 25 years.
"I don't expect the leaders of [Tufts] to stand with Israel politically, but I do expect them to stand against evil when evil shows its face, and this was the most extreme form of evil imaginable," Golan said from Tel Aviv, where he is volunteering as an emergency medic for civilians. "This has demoralized many of my colleagues."
In response to the complaints, Tufts Medical Center said in a statement that it is "firmly committed to listening, learning and providing resources" to its workforce. "We have great concern and compassion for our employees, colleagues, and all people who are directly and indirectly affected by the conflict in Israel and Gaza, and unequivocally condemn acts of terrorism, denounce violence, and mourn the senseless loss of innocent lives."
Boston Children's Hospital did not respond to requests for comment.
The experience of the American Pediatric Surgical Association (APSA) underscores the pressures and perils of commenting on the unfolding horrors in the Middle East.
David Powell, a pediatric surgeon and president of the APSA, said the organization initially was unsure whether to issue a statement. But several days after the initial assault, APSA members began criticizing the organization for staying silent. In response, APSA made a brief post on X, formerly known as Twitter, in which it expressed sympathy for those who had lost loved ones following the "despicable Hamas terrorist attacks in Israel."
Then, several days later, an APSA staff member modified the initial Twitter posting to include the image of an Israeli flag, Powell said.
Almost immediately, APSA's posting drew a barrage of negative comments from people who objected to the inclusion of the flag, which was interpreted as one-sided. The posting also did not reflect that Israel had launched a counteroffensive in Gaza that has killed and displaced thousands of Palestinians, including children, Powell said. As a result, the organization has since deleted the posting.
"Given the fact that Palestinian children in Gaza were dying, only including the Israeli flag was insensitive and inappropriate — and doesn't represent what we stand for," Powell said. "We stand with the victims of violence everywhere, whether they're Palestinian or Israeli or Ukrainian."
Yet staying silent poses its own risks in an era in which corporations, universities, sports teams, and celebrities are increasingly expected to take public stands on traumatic events, from the murder of George Floyd to mass shootings. Choosing to say nothing — or even waiting a few days to make a statement — can open an institution to accusations of complicity or indifference to suffering. Institutions often feel compelled to make statements simply because others are doing so, and they don't want to appear insensitive to a tragedy, according to public relations experts.
"This is six-dimensional chess," said Andy Paven, a public relations consultant in Boston. "I take it as a given that [these statements] are born of a genuine need to speak to something that shocks the conscience. But as soon as it's the Middle East, you're wading into thousands of years of conflict that no one is able to untangle."
Extra News Alerts
Get breaking updates as they happen.