Neighborhoods

The gardener, from Boston, grew the 376-pound gourd in a 240-square-foot plot.
When the New England air begins to turn crisp and leaf-peeping plans are being made, it also means harvest time has begun for one popular gourd.
For Jamaica Plain resident Michael DeMarco, the arrival of pumpkin season means weigh-in time. 
Last weekend, DeMarco and a 367-pound gourd he grew wound up in Colchester, Vt. for the Vermont Giant Pumpkin Growers Association weigh-in — and his pumpkin drew some attention.
It wasn't for its size, he said. Winning pumpkins at these events usually measure more than 1,000 pounds, and the first-place pumpkin weighed in at 1,092 pounds. DeMarco placed 10th for his nearly 400-pound pumpkin.
Instead he got attention for how and where he grew it. 
"Living in the city, we don't really have garden space on the property," DeMarco said. "If you want to garden locally, it's a community garden or nothing."
Anson Tebbetts, the state's secretary of agriculture, food, and markets, called the urban garden-grown pumpkin one of the "big stories" at the weigh-in event. 
"He loves the Boston vibe and working the city soil," Tebbetts posted about DeMarco.
DeMarco says he got lucky in 2021 to nab a plot at Mattapan's Shangri-La community garden run by the city of Boston — apparently there's typically a wait list to get a plot of gardening space at Boston's few community gardens.
Since then, he's attempted (and even failed once) to grow larger-than-usual pumpkins. It's quite a process, DeMarco said, and that's why it's so impressive, despite his pumpkin being more petite — relatively speaking, of course — compared to his competitors. 
Pumpkins can take over 100 days to grow, and the bigger gourds take even longer. For the pumpkins that get up to 2,000 pounds, DeMarco said these growers have heated greenhouses to keep the gourd safe from the elements. They also usually tend to them throughout the day.
As someone without their own garden and with a full-time job in the reinsurance industry, DeMarco can't do either of those things. So his pumpkin's life started in a small planter inside his Jamaica Plain home in April.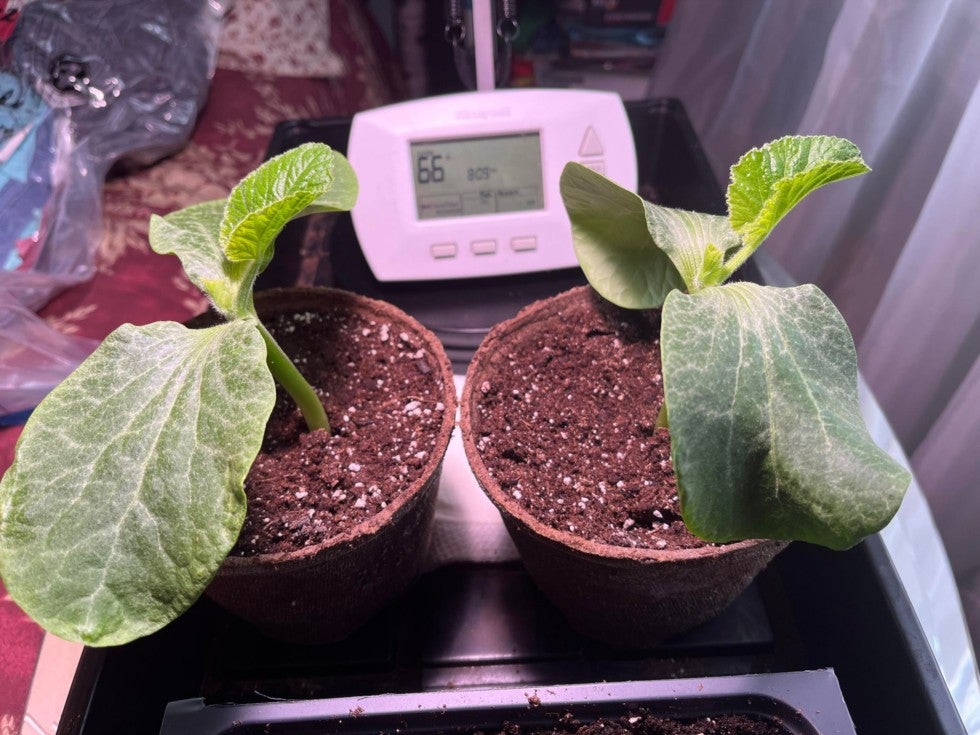 Then it moved to the Mattapan garden about a month later, where he tended to it three to four evenings per week.
"The challenges I face are city traffic and work commitments," DeMarco said about getting to the garden during the week. "Then there's the sheer square footage. Two-hundred-and-forty square feet is pretty big for a community garden, but as far as pumpkin patches go, it's not big."
Sometimes, after a 40-minute commute snarled by rush-hour congestion, DeMarco would get all the way to the garden and realize he forgot a garden tool he needed for that day. Then there was a string of bad weather events that impacted gardeners this year, including a chilly spring and a wetter-than-average summer. 
"A lot of people lost pumpkins this year," DeMarco said. 
But this was his biggest pumpkin yet. Last year's pumpkin was around 270 pounds; same as the year before, except his pumpkin from 2021 rotted before he could get it to a weigh-in. And according to a journal he keeps to record the gourd's growth, at one point in late July it grew 10 pounds a day for 10 days straight. 
So what's his secret? A lot of scientific research and networking in the pumpkin-growing community, he said. He couldn't have done it without the growers who shared their knowledge because growing a 300-pound pumpkin doesn't happen "randomly," let alone in a community garden.
But he didn't get back into gardening during the COVID-19 pandemic to compete with other pumpkin growers; he just loves being outdoors.
"It's relaxing after work to water and weed and clean up," DeMarco said. "Everyone has a task at the community garden. Sometimes I trim the rose bushes or cut the grass — that's the nice part of it. A lot of people are proud of the park."
The 367-pound gourd now sits atop the city soil it grew in, proudly in front of DeMarco's Jamaica Plain home, where it will be until it turns soft and needs to be composted.
Newsletter Signup
Stay up to date on all the latest news from Boston.com