Morning Sports Update

"I went to the sideline and I said, 'Coach, what would you like me to do in this situation? Pray? Do you want me to pray?'"
Channing Crowder on facing Tom Brady, Randy Moss, and the 2007 Patriots: During a recent interview with ESPN's Kevin Clark on the "This is Football" podcast, former Dolphins linebacker Channing Crowder was asked about his most daunting experience facing the Tom Brady-Bill Belichick Patriots.
Crowder, now a radio host in Miami, was with the Dolphins from 2005-2010. Given the timeline, he had an obvious response.
"That [2007] season with Moss, they came down to Miami. Moss was un-coverable," Crowder recalled. As a linebacker who was also the defensive play-caller, Crowder tried to explain the Dolphins' process.
"We would disguise as long as we could," he said. "The thought is eight seconds. When you're a defense guy, don't show your hand because if there's eight seconds left on the play clock, you can't adjust. So you wait until there's eight seconds on the play clock until you show your hand if you're blitzing."
The problem, as Crowder explained, was that if someone on Miami's defense committed too early, Brady would inevitably spot it.
"I'm at middle linebacker, so I'm standing five yards away from Brady, and somebody showed their hand — it wasn't me, I'm innocent — but somebody showed their hand, and Brady figured out it was one-on-one," Crowder said, referencing the coverage. "He looked over and he literally smiled at Randy Moss. That was one of Moss's touchdowns during that game in '07."
"It was a time as a play-caller where I sat there and I saw Brady look over at Moss and smile and I knew that they knew what was going on. I didn't have enough time to check and I said, 'We're in trouble,'" Crowder admitted. "I don't care who that corner was. That corner could've been Deion Sanders. [Brady] was about to throw that ball as far and as long as he could throw it, and Randy Moss was going to set his feet in the end zone, and at [6'4″] and having a 40-inch vertical, there is nothing that anybody can do about it."
The Dolphins ended up losing 49-28, having fallen behind 42-7 at halftime. Brady finished the day with six touchdowns, two of which went to Moss.
Crowder joked about asking the Miami coaching staff if he should appeal to a higher power, as nothing the Dolphins could do in normal terms had any effect on Moss.
"I went to the sideline and I said, 'Coach, what would you like me to do in this situation? Pray?" Crowder said. "Do you want me to pray? Do you want me to look to God to see what's going on here?' That was one of the times, that Brady-Moss combination was one of those games where you're just like this is unfair, of what they can do on this football field."
It was a moment that stands out in his mind.
"In my career, the most defenseless I've felt as a defensive captain [was] when Randy Moss and Tom Brady were on the field together."
Trivia: Randy Moss and Rob Gronkowski account for four of the top five best single-season touchdown reception performances in Patriots history (Moss leads the way with 23, recorded during the 2007 season). Can you name the other player to feature in the top five?
(Answer at the bottom).
Hint: He was drafted as a first-round pick by the Patriots in 1977, and led the league in yards-per-reception three times.
Scores and schedule:
The Red Sox lost to the Rangers 15-5 on Wednesday. And following a Blue Jays win later in the day, Boston was officially eliminated from postseason contention.
The Connecticut Sun defeated the Minnesota Lynx 90-75 in the decisive Game 3 of the first round WNBA playoff series. Connecticut was led by Alyssa Thomas and DeWanna Bonner, who collectively totaled 53 points, 16 rebounds and 18 assists.
Connecticut will now face the New York Liberty in the semifinal series, which gets underway on Sunday at 1 p.m.
More from Boston.com:
The moment Brad Marchand was named Bruins captain:
On this day: In 1999, Pedro Martinez struck out 12 in a 3-0 Red Sox win over the Blue Jays. The Boston ace threw a three-hit shutout, and set a new single-season team record for strikeouts (he would finish the year with 313).
By reaching the 300-strikeout threshold in both the American and National Leagues (having done so previously with the Expos), Martinez also joined Randy Johnson as the only pitchers in history to achieve such a feat.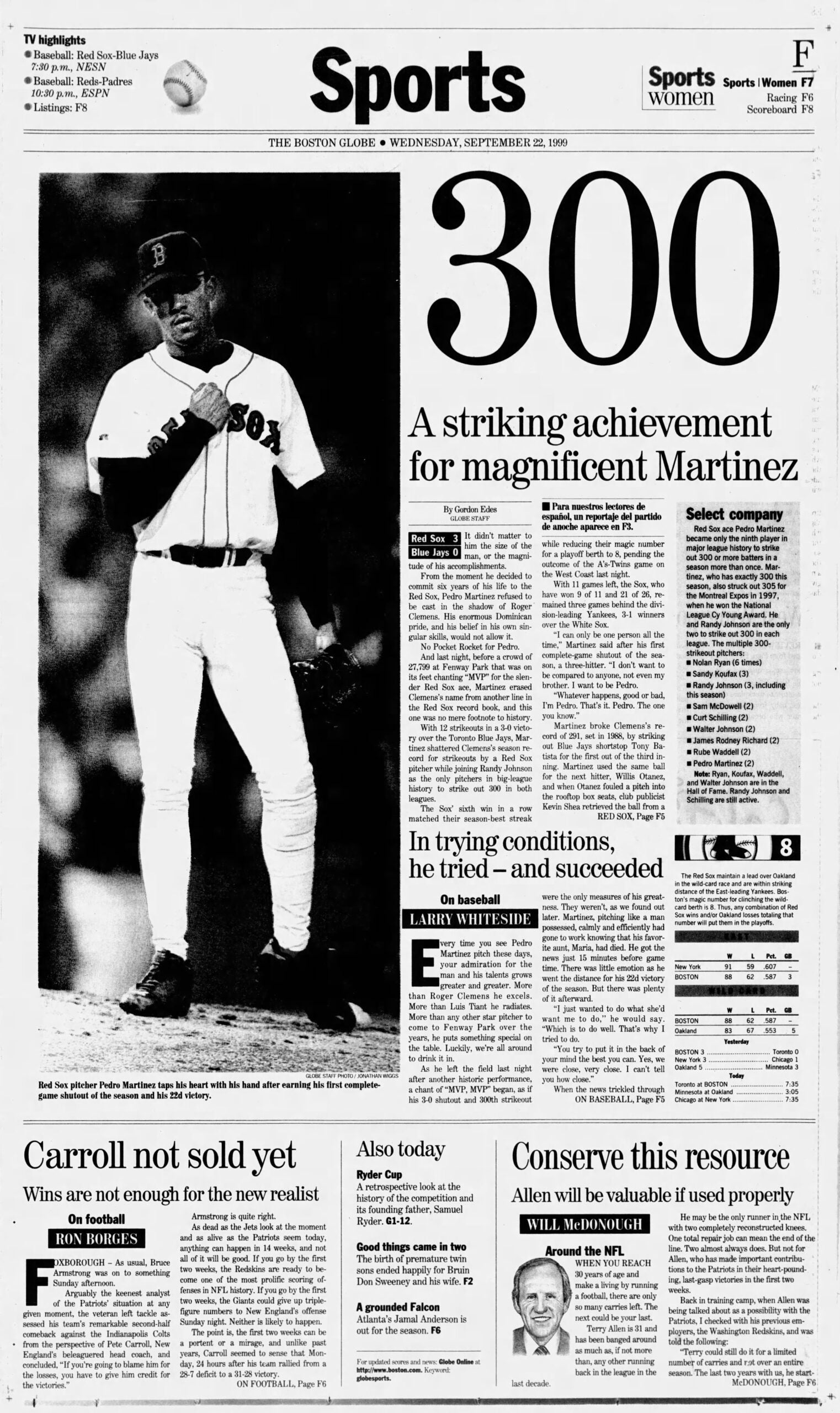 Daily highlight: Brazilian midfielder Mikael scored an outrageous bicycle kick from a seemingly impossible angle for Kitchee SC in the AFC Champions League on Wednesday.
Trivia answer: Stanley Morgan
Sign up for Patriots updates🏈
Get breaking news and analysis delivered to your inbox during football season.