Patriots

Considering New England's fortunes since Brady left to sign with Tampa Bay, he's certainly been missed. The Patriots have yet to settle on a long-term successor.
FOXBOROUGH, Mass. (AP) — Tom Brady left an imprint on the New England Patriots that hasn't faded.
Three-plus years after his departure, Brady's jersey is still sold inside the stadium and dots its seats on game days. Photos of both his iconic and mundane moments in a Patriots uniform also continue to decorate various areas of the team's practice facilities.
Tell Us: What is your favorite Tom Brady memory during his 20 years with the Patriots?


What NFL experts are saying about Sunday's Patriots-Eagles game

New England running back Rhamondre Stevenson chuckled this week when asked how many images of Brady he saw during a short walk from the locker room to a news conference.
"I probably walked past him five times," Stevenson said.
Brady long ago cemented his place as the Patriots' favorite son, even before he won the last of his six Super Bowl rings with the team after the 2018 season. Now retired, he'll return to be honored for his legacy on Sunday when New England opens the season against Philadelphia.
"He certainly deserves it," Patriots coach Bill Belichick said.
Considering New England's fortunes since Brady left to sign with Tampa Bay, he's certainly been missed. The Patriots have yet to settle on a long-term successor.
Cam Newton's attempt to follow the future Hall of Famer ended with a 7-9 record in 2020 and the team missing the postseason for the first time in more than a decade.
Newton was beaten out the following season by then-rookie Mac Jones, who led New England back to postseason and earned a Pro Bowl nod in 2021. But that momentum cratered last season as the Patriots went 8-9. Jones regressed and the offense ranked in the bottom half of the NFL.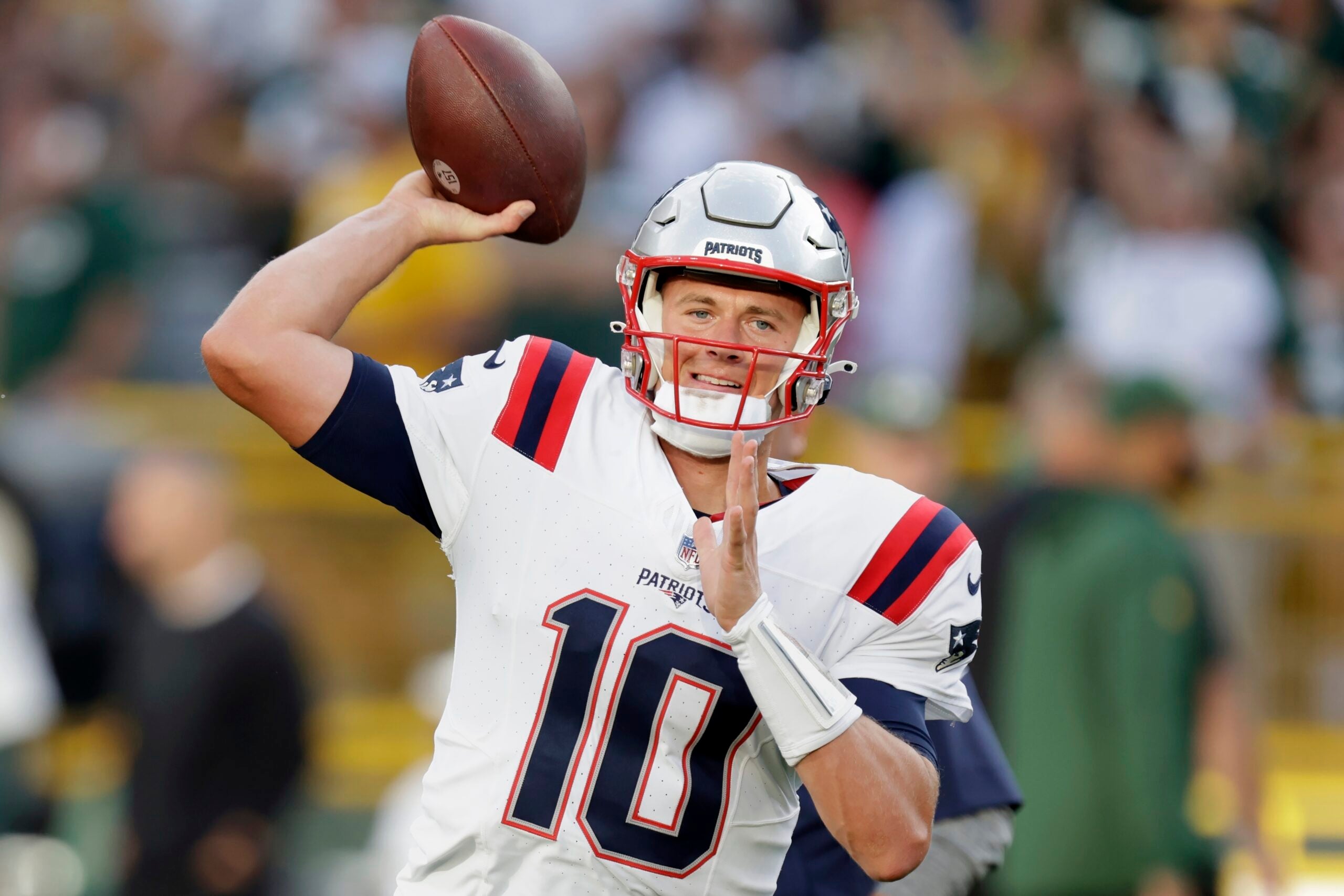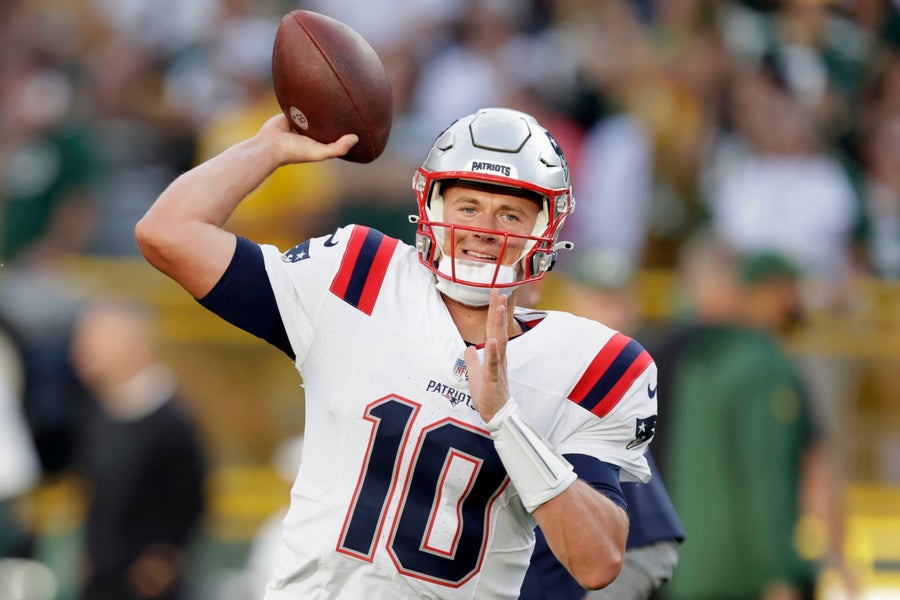 Belichick brought back former assistant Bill O'Brien as offensive coordinator in an effort to revamp the Patriots' attack.
For his part, Jones believes Brady's legacy has helped, not hindered, his progress.
"I think Tom Brady's the greatest quarterback to ever play in the NFL. So, to follow up on him, it's just trying to chase the standard that he set, every day," Jones said. "Honestly, we're definitely two different players, and that's the only advice I'd have. Just continue to grow and be yourself, right? That's all you can do, is put your best foot forward and compete. But yeah, it's definitely big shoes to fill."
The Eagles enter Week 1 fresh off an NFC championship and narrow Super Bowl loss to Kansas City. Philadelphia is very much secure at quarterback, having signed Jones' former Alabama teammate Jalen Hurts to a long-term deal this offseason.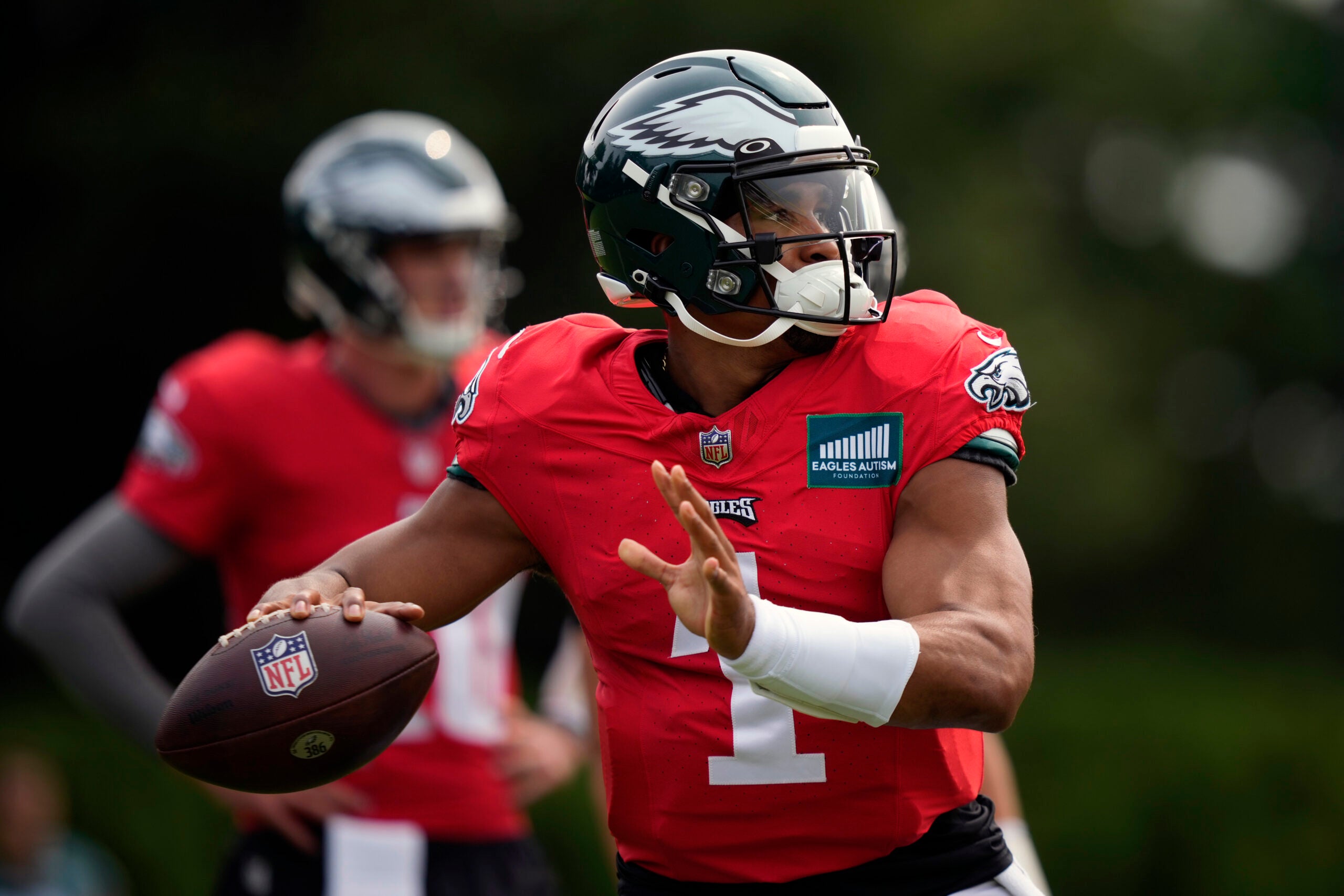 While Hurts has enjoyed success that so far has eluded Jones, Hurts believes Jones has better football ahead of him. This will be the first meeting between the two Crimson Tide QBs.
"Mac has always been a great competitor," Hurts said. "He had a hunger for the game and just learning. Always challenging himself. I'm looking forward to him doing big things this year."
Wanted man
Hurts has said he was sure on the night of the 2020 draft he was bound for the Pittsburgh Steelers. Dallas Cowboys owner Jerry Jones said last month his team would have drafted Hurts had he still been available. And yes, there were hints that the Patriots were interested in drafting Hurts. It seems like all sorts of teams claim now they wanted Hurts three years ago.
The MVP runner-up, who went 53rd overall, has noticed.
"It seems like there a lot of people that would have taken me if I was there," he said.
Hurts threw for 3,701 yards with 22 touchdowns and ran for 760 yards and 13 scores while he led the Eagles to the Super Bowl last season. In April, the Eagles rewarded Hurts with a $255 million, five-year contract extension.
"His mindset has not changed in terms of how he attacks every single day, the purpose that he has, the passion that he plays with, and his desire for becoming the best player he can possibly be," Eagles offensive coordinator Brian Johnson said.
Kicking it
The Patriots will have two new faces handling kicking duties.
Longtime punter Jake Bailey missed the final eight games of last season with a back injury and was released in March.
New England used a fourth-round draft pick on Maryland kicker Chad Ryland and sixth-round pick on Michigan State punter Bryce Baringer.
Baringer stood out throughout the spring and training camp and Ryland beat out Nick Folk, who was traded to Tennessee.
Welcome back, Matt
Sunday will also mark the return of Philadelphia assistant Matt Patricia to the sideline in Foxborough.
Patricia spent most of his 16 seasons with New England on the defensive side of the ball, including six as defensive coordinator from 2012-17. He was a part of five Patriots Super Bowl appearances and three championships.
After his three-year stint as Detroit's head coach ended, he returned to New England in 2021 as a senior advisor. He then took over the reins of the offense last season, including play calling duties.
But the unit struggled under his direction, lagging in the bottom half of the NFL in several categories, including last in red zone efficiency.
He was hired by Philadelphia as a senior defensive assistant in April.
AP Sports Writer Dan Gelston in Philadelphia contributed to this report.
Sign up for Patriots updates🏈
Get breaking news and analysis delivered to your inbox during football season.