Morning Sports Update

"Miss me with this BS," Wilfork said on social media as part of his response to comments made by Ben Roethlisberger and Jerome Bettis about the AFC Championship Game in 2005.
Vince Wilfork and Matt Chatham weighed in on the Steelers' claims of cheating in a 2005 playoff game: In the wake of the most recent accusations made by former NFL players that the Patriots cheated during the team's Super Bowl runs in the 2000s, Vince Wilfork is among those who have heard enough.
Responding to claims made by former Pittsburgh players Ben Roethlisberger and Jerome Bettis that the Patriots stole Steeler signals ahead of a crucial fourth down play in the AFC Championship Game in Jan. 2005, Wilfork pointed out a basic error in the account.
Contradicting Bettis's claim that defensive lineman Ted Washington was involved in the play call on fourth down, Wilfork correctly reminded the Steelers that Washington wasn't on that year's team (he was part of the 2003 Super Bowl run, but left in free agency to sign with the Raiders).
"Yes Washington wasn't even on the team first off in 04!" Wilfork said in a social media post. "But I was and Keith [Traylor]! Miss me with this BS."
Another former Patriot, Matt Chatham, went into a little more detail in his rebuttal of the Steelers' version of events. He included visual detail to demonstrate that New England's nose tackle didn't make a pronounced lateral move — which would have possibly indicated the Patriots' knowledge of the Steelers' call — but instead simply dominated his matchup.
"Nobody 'looped' around to a hole they knew was coming or whatever. Didn't happen," said Chatham.
"The [nose tackle] just…goes straight ahead," added Chatham. "Wins his gap."
Other problems with Bettis's account were listed by Patriots reporters, including the facts that New England did not call a timeout before the play (and therefore no defensive lineman went to the sidelines), as well as Bettis ultimately fumbling.
After the fourth down stop, the Patriots immediately hit the Steelers for a 60-yard touchdown when Tom Brady found Deion Branch down the middle. New England went on to win 41-27 en-route to the team's third Super Bowl win in four seasons.
Trivia: In his career, Jerome Bettis never rushed for 100 yards or more against the Patriots. Can you name the Steelers running back who totaled the most rushing yards against the Patriots in a single game?
(Answer at the bottom).
Hint: It happened in 2018 from a player who was selected by the Steelers in the fifth round of that year's draft out of N.C. State. He played just four seasons in the NFL. In the matchup against New England, he rushed for 142 yards on 19 carries in a 17-10 Pittsburgh win.
Scores and schedule:
The Connecticut Sun lost to the New York Liberty 84-77 in Game 2 of the WNBA Semifinal on Tuesday. The series is now tied 1-1 heading back to Mohegan Sun Arena on Friday at 7:30 p.m.
Also from Tuesday, the Red Sox dropped the first of a two-game set with the Rays in a 9-7 defeat at Fenway Park. The two teams play again this evening at 6:10 p.m.
More from Boston.com:
Ben Roethlisberger, Jerome Bettis claim that Patriots cheated against Steelers in 2004 AFC Championship Game
Bruins takeaways: Mason Lohrei logs heavy minutes, too many passengers in preseason loss to Sabres
4 takeaways as Red Sox nearly erase 7-run deficit but fall, 9-7, to Rays
Brooks Robinson, Orioles third baseman with 16 Gold Gloves, has died. He was 86
Watch: Jayson Tatum gives Kevin Hart one of his 5-year old son Deuce's jerseys to wear
Bill O'Brien laughs off notion that Patriots are 'interrogating' Will Grier for info on Cowboys' offense
Here's what Alex Cora said about his future, the offseason, and his goals for the team
One of game's characters, former Red Sox manager Terry Francona set to end career defined by class, touch
Patriots place defensive tackle Daniel Ekuale on injured reserve
Brian Belichick discussed his 'long recovery' from a knee injury
'His attitude has been fantastic': Milan Lucic has impressed Jim Montgomery on and off the ice
Mac Jones reportedly 'isn't expected to be suspended' for incident with Sauce Gardner
Marking Terry Francona's retirement: With the longtime manager (formerly of the Red Sox) retiring at the end of this season, WBZ reporter Dan Roche shared a rundown of some of their best exchanges.
On this day: In 1942, the Red Sox won the season finale over the Yankees, 7-6. In a back and forth game, with four lead changes, Boston overcame New York thanks to Tex Hughson surviving a tough start to pitch a complete game and notch his 22nd win of the year. He also added a pair of RBIs.
A crowd of 22,915 saw the game at Fenway Park. Amid wartime conditions, 1,042 soldiers were in attendance to simply enjoy the game, while 3,251 gained admission by donating scrap metal (as part of a Red Sox promotion to help with the ongoing national effort in World War II). According to the team, more than 46,850 pounds of scrap metal was collected.
Ted Williams marked the day by collecting a single in the fifth inning, ending his season with a .356 batting average, 36 home runs, 137 RBIs, and a 1.147 OPS. He won the batting title and also the first of what would be two American League triple crowns.
The game would be the last for Williams and several other Red Sox players (along with many other Major Leaguers) before they enlisted in the military. Williams's next time playing for the Red Sox wouldn't come until April 16, 1946.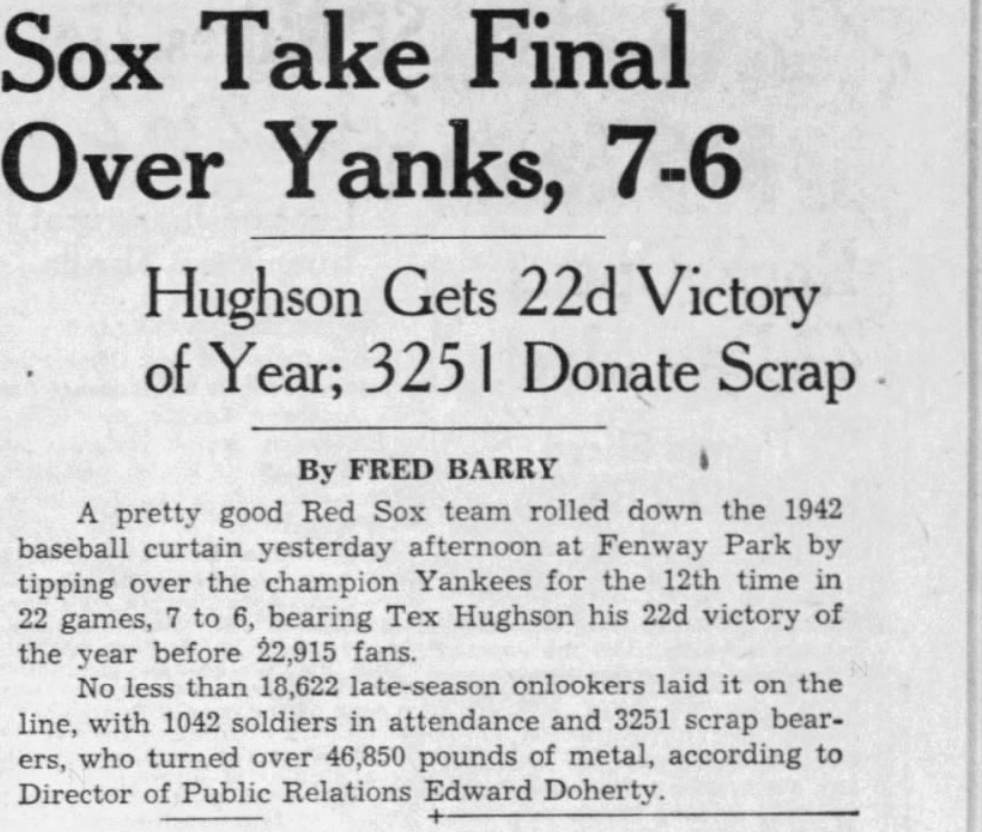 Daily (low)light: In a twist on the usual format, enjoy a stupendously bad penalty kick. Attempting to recreate a famously unorthodox method, players for Turkish club Galatasaray seemed to have perfectly lined everything up.
Unfortunately, Argentine striker Mauro Icardi — a player with more than 200 professional goals to his name — missed the empty net. Luckily (for Icardi and Galatasaray), he scored a nice goal from open play five minutes later, and his team won 1-0.
Trivia answer: Jaylen Samuels
Sign up for Patriots updates🏈
Get breaking news and analysis delivered to your inbox during football season.