Local News

Grafton native Sam Coveney spent hours riding duck boats inside a bright yellow duck suit as punishment for coming in last in his fantasy football league.
Boston's famous amphibious duck boats are a common sight for many, but people in the city on Sunday may have spotted an unusual passenger: a giant yellow duck, perched on the boats for more than seven hours as they hit Boston's landmarks over and over… and over again.
Inside the suit was Grafton native Sam Coveney, serving time being punished for choosing the worst fantasy football team among a group of his college buddies. 
"It was definitely a long day. I put on the duck suit at 8:45 a.m. and took it off at 4:30 p.m. The only times I removed the head of the duck suit was to eat lunch and drink water," Coveney said.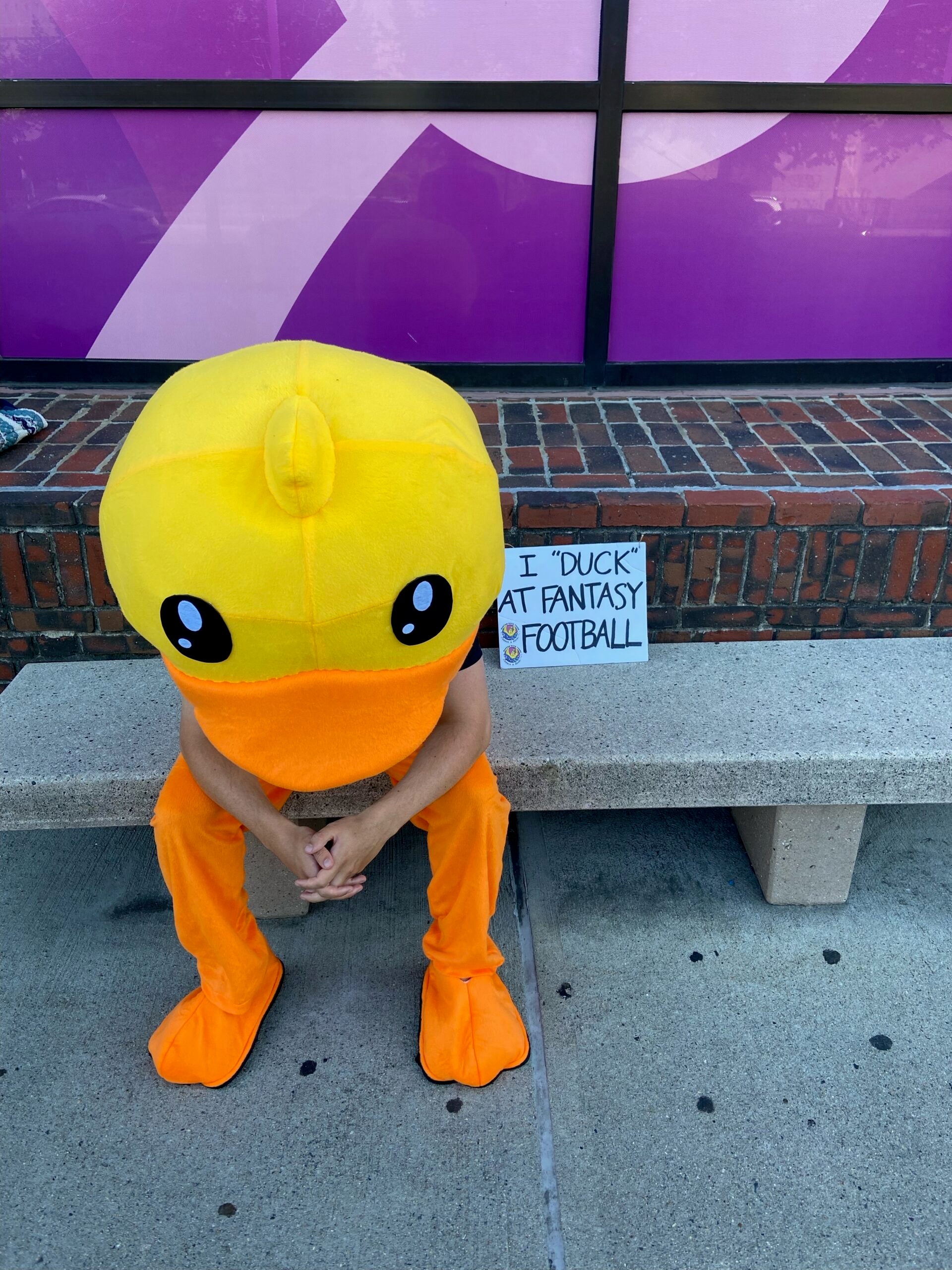 The idea for this unique form of public humiliation was cooked up by one of Coveney's friends, Alex Ricciardelli, before last year's NFL season. The loser of their fantasy football league would either have to wear a duck suit in public for 12 hours, or ride a duck boat four times in the suit. Coveney opted for the latter, which allowed him to cut down the 12-hour punishment due to the "increased levels of public humiliation" of riding the duck boat continuously. 
Coveney's league, which consists of 12 friends who met at Boston College, always decides their punishment before a season starts. The punishment Coveney was subject to may have been the most public so far, but the league has never lacked creativity. 
One year, the loser was forced to spend 24 hours in a car that the friend group shared in college without leaving the vehicle, Coveney said. They ended up driving to New York and back while eating only at drive-thru restaurants and sleeping in the car. Another time, the loser had to spend 24 hours inside a McDonald's, with every McChicken sandwich eaten shaving off an hour of time in the restaurant. 
"Last year, the loser had to watch a full season of one of those cliche cable television sitcoms and write a blog after each episode. The punishments are always really creative and funny," Coveney said. 
So when draft picks like Keenan Allen and Cam Akers landed Coveney at the bottom of the league's standings, he knew it was time to suit up. 
Donning a styrofoam duck outfit and displaying a sign that read "I 'DUCK' AT FANTASY FOOTBALL," he climbed aboard. 
Luckily, Coveney said, the suit's material did not make it too stifling. He also strategically picked a cooler day to avoid the possibility of sweating profusely. 
Although duck boat tours are a great way for newcomers to experience Boston, Coveney, a North End resident, found he could only take so many historical tidbits. 
"I recommend people visiting Boston to check out the tour, because it's a fun way to learn interesting facts about the city, but by the 2nd or 3rd tour, the route and fun facts started to blur together," he said. 
Coveney passed the time by interacting with tourists. He found particular enthusiasm from "middle-aged dads," who eagerly passed on the idea. Bostonians may just have to keep an eye out for more duck suit-clad fantasy football losers next year. 
"I probably had 10-15 of them ask me to pose with the sign so that they could send it to their buddies as an idea for next year's punishment," he said.
Newsletter Signup
Stay up to date on all the latest news from Boston.com